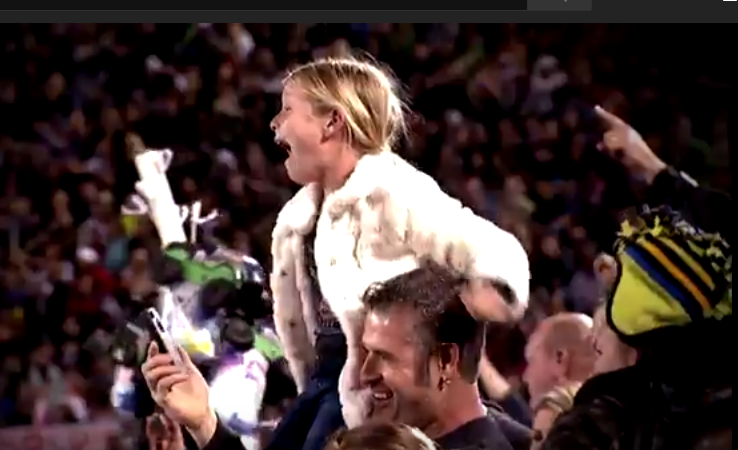 I've taken my sons to Monster Jam®, the unexpected, unscripted and unforgettable, most family-friendly motor sport in the world, when they were younger and now that the show is heading back to  Washington, DC for three adrenaline pumping events at the Capital One Arena on January 26-27, I will take my daughter.
Girls can like big trucks too!
The show will feature eight of the most intense athletes of Monster Jam so Washington fans will get to witness a fierce battle for the championship with each competitor contending in customized high-powered vehicles: Monster Jam Speedsters, Monster Jam ATVs and of course, the iconic Monster Jam trucks in six events sure to leave fans on the edge of their seats.
I did not realize previously that Monster Jam drivers are trained, world-class male and female athletes.
To get the honor of driving one of these beasts on wheels, they have to who master not only the physical strength and mental stamina needed to compete, but the vital dexterity to control 12,000-pound machines capable of doing backflips, vertical two-wheel skills and racing at speeds up to 70 miles per hour to produce jaw-dropping, live motor sports action seen around the world.
Wowza! I cannot wait to experience this again up close and personal!
Fans are invited to the pre-event Pit Party before January 26 and 27 1:00 p.m. events where they can get up-close-and personal with the Monster Jam trucks and drivers, take photos and get autographs.
WHERE:         Capital One Arena – 601 F St NW, Washington, DC 20004
WHEN:            Saturday, January 26 @ 1:00 p.m. and 7:00 p.m.
                        Sunday, January 27 @ 1:00 p.m.
The Pit Party on Saturday, January 26 and Sunday, January 27from 10:30 a.m. – 12:00 p.m. gives fans the opportunity to get up close and personal to the Monster Jam trucks and drivers.

TICKETS:       Tickets and Pit Party Passes are available at www.ticketmaster.com.
But  you can win them here! I'm giving away 4 Tickets to lucky readers! Enter below now thru January 
4 Monster Jam DC Opening Night Tix
I am a Feld Family Ambassador, and in exchange for my time and efforts in attending shows and reporting my opinion within this blog, as
well as keeping you advised of the latest discount offers, Feld Entertainment has provided me with complimentary tickets to Feld shows and
opportunities to attend private Feld pre-Show events.
Even though I receive these benefits, I always give an opinion that is 100% mine