Since we are currently in the midst of Black History Month, you may have come across quite a few sites and blogs sharing lists of books about Black History or featuring black characters in case a parent is looking to diversify his or her child's library to include all races of characters….or if you are a black or brown parent and want a book that represents your child.
I like the list that Scott Woods Makes List created last year of 28 More Black Picture Books That Are Not About Buses, Boycotts or Basketball because while there have been a lot more books out, the subject ranges have been limited to the aforementioned topics. Phew!
And as most parents who have small children know by now, books are important and being read to in early child development is just as if not more important!
Somewhere between 12 and 18 months, your child will realize that those sounds he's been hearing you read — words — actually mean something.
The more you talk and read aloud to a child at this time (and from the start, for that matter), the better her vocabulary will be.
Look for books with a wide variety of visuals, words that repeat often, and clearly labeled objects, both common and unfamiliar.
When you read aloud, pause frequently to ask your child questions about the objects you see, answer her questions, and talk through the book's action and images.
You don't need a big book budget for this age group.
Hearing three or four titles over and over is better for a child than trying to introduce lots of new books.
When my children were little we discovered a wonderful book called "So Much" by British author of Dominica, Caribbean-parentage Trish Cooke and illustrated by Helen Oxenbury who is most well known for illustrating Tickle Tickle, All Fall Down and her own books.
Children will appreciate ethnic diversity and the fun story about the anticipation of arrival of guests at a party for a young baby's dad.
I love this book so much, I buy it for friends I know who have kids. I have shipped off several copies. See proof below the number of times I personally ordered and purchased it for friends: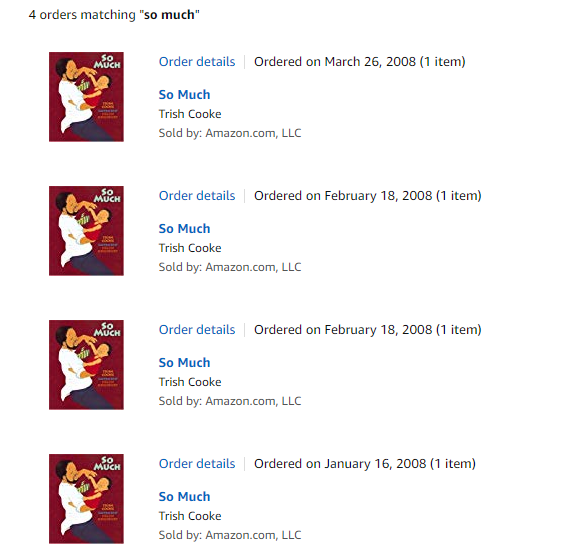 My fave part about this book is the playful language uses repetition and I could read it in a different accent each time to make it fun.
The author was born in Bradford, West Yorkshire in the UK and comes from a large family, with six sisters, three brothers, eight nephews, six nieces, three great-nieces and one great-nephew, all of whom provide her with the inspiration for her picture books as the publisher notes Cooke has said.
"There's always some conversation or other going on somewhere that I can eavesdrop on – language is very important to me. I love music and rhythms and when people talk, it is as if sometimes they are actually singing. I remember Sunday mornings, the smell of saltfish and johnny cakes wafting up the stairs, Mum singing and Dad telling stories that were always 'true'."
The kids loved it and enjoyed seeing me pull it off the bookshelf each time.
They are a lot more treat books out there featuring black characters nowadays compared to year's past.
If you are looking for a fun book to add to your child's library to diversify the images they see in books or to present a reflection of your brown or black child, I highly recommend So Much!
If you get it, I recommend purchasing the Hardback version because you'll be using it so much and can get it starting at $3 on Amazon.
If you get the paperback version, it's a good bet too and much lower now that the title is older.