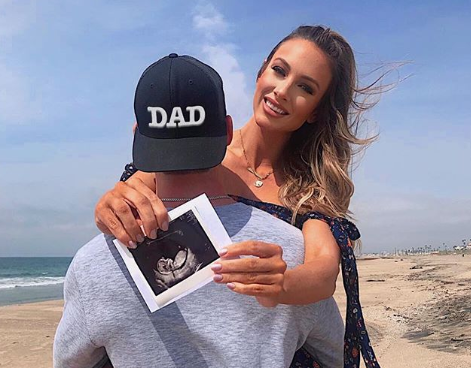 Paige Hathaway, a global fitness icon and entrepreneur, announced today that she is expecting her first child later this year, a press release about the news reads.
Hathaway, who was born and raised in Oklahoma, boasts over 11 million followers across all her social platforms, and has headlined a series of fitness challenges and endeavors including Fitin5 Challenge, LIV Body and is also the face of Australian gyms, F45.  
She posted about the expectancy on her Instagram too.
"Here it goes.. WE ARE PREGNANT! ???" she captioned a photo of herself holding up an ultrasound photo while straddling her partner, Jason, on a beach.
She added:
"This is one of my most exciting announcements, but also one of my most vulnerable. I can't believe I'm finally able to tell you all – I have wanted to share this news for months!! Jason and I are overwhelmed with love, joy and happiness about our baby. ABSOLUTELY OVER THE MOON EXCITED ☺️?? This is a total miracle!! I know you ladies probably have 1 million questions as I have just reached my second trimester ? and I will be making weekly YouTube videos starting next week about everything but for now, let's celebrate this amazing moment together!! ? "
She talked about the next chapter in the release.
Hathaway said of the news. "Since I began my professional career, I've aimed to be a positive role model in the fitness community and have worked tirelessly to succeed in my professional ventures. This new chapter of my life marks a transition to motherhood and I couldn't be happier."
Congrats!