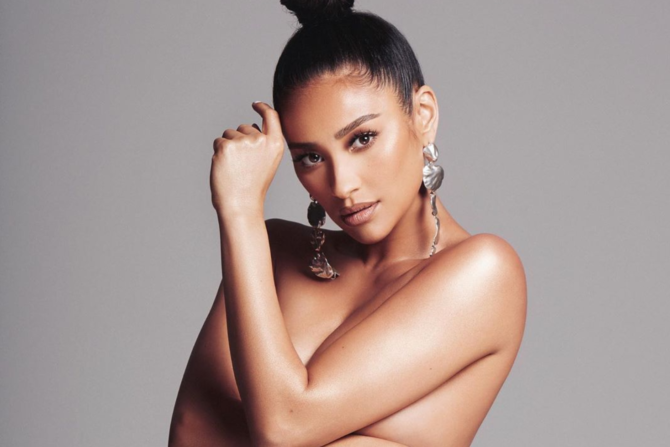 Pretty Little Liars star Shay Mitchell is in the homestretch and has no plans of slowing down before or after her first child is born.
She and partner Matte Babel have agreed on a name for their daughter who they expect to arrive in October and are working through a disagreement on whether to go with an epidural or not, but one thing she is sure of, she has no plans of having a maternity leave.
"My entire team knows that there's no maternity leave for me," Mitchell revealed while attending the 2019 PaleyFest "upfronts" for HULU streaming channel in Beverly Hills, California promoting her new series Dollface on Tuesday. "I do a lot of my work on my phone and I have another company that I run. I love what I do, so for me, it doesn't feel like work."
To that announcement, I say, "yeah right!"
As the self-pronounced institutional memory of celebrity pregnancy, I have reported when other celebrities like Cardi B, Amal Clooney, Ivanka Trump, and former Yahoo! CEO Marissa Mayer all made bold pronouncements about taking short leaves before changing their minds after baby arrives.
After Amal Clooney said she planned to take just a month and a half off, insiders reported she was having "mixed emotions" about returning to work, but "will return back slowly."
Besides Clooney, every single one of them realized in short order that a baby needs time to connect, be nurtured by  mom and to get the benefit of security, nutrients and antibodies if mom is breastfeeding and they needed time to focus on baby while not have to juggle space in their mind and life to balance a myriad of other ventures, businesses and work activities at the same time.
My position is that a lot of women across the globe must work and cannot afford to take time out to be with their baby so if you are in a position, financially and have the support and ability to get help, please do! Baby and mama come before career.
She doesn't have to take my word for it.
FOX Business Network anchor Trish Regan took just six weeks of maternity leave after giving birth to twin girls Elizabeth and Alexandra, now 8. Then a few years later, she took just three weeks off of work after her second pregnancy with son Jamie, now 5.
"It's a mistake that I really want to make sure other women don't make." the mother of three lamented over her decisions prompted by a fear that she would lose her slot in primetime lineup. "Make sure you take every bit of time because the reality is the job will always be here but that time with your child, you will never get back."
She added. "That's important time for you as a mother. One of the things that is so important as a working parent is to remember: What are our priorities?"