Diaper bags are traditionally feminine and come in nice pretty pastels.
They're often offered in floral prints and some have cute geometric shapes and target moms who prefer soft aesthetics in accessories. This targeting leaves  out the outdoorsy, on-the-go, sporty type moms.
The yoga mom or mom who enjoys running and hiking for fun may be less inclined to purchase bags with soft color palettes.
Similarly, I think those former rocker girl or hip hop loving dame turned mom may prefer a bag that is functional and in darker shades. They may also perfer gender neutral designs.
The solution for me when I was starting my family was to invest in a black leather diaper bag by Coach which had a neutral design but lots of structure. I also invested in a cross body bag.
The benefits of having a non-gender specific styled baby diaper bag is that dad can pick it up and cart it with him when collecting the baby from her grandma's house.
A diaper back pack is the ultimate compromise between bags that have to be carried over one shoulder and that mimic a handbag and a cross the chest messenger bag which is a style common in men's bags.
Finally, when it comes to color, you cannot go wrong with black.
Black is stylish, sleek and matches everything. It's a fave of moministas amongst and stains are hard to spot on black items.
When you add all of these characteristics together, a few bags come percolate to the top of the list.
Here are three:
The award-winning  Obersee Rio Diaper Backpack is top of mind.
This back pack is made by the same family-owned company which got its start selling leotards and gear for gymnasts. As you can see from the photo above, it targets the adventurous outdoorsy type family which prefers to keep hands free to actively participate in whatever action is around them.
The backpack has plenty of interior room and comes with a Baby Bottle Cooler and Changing Mat, Shoulder Baby Bag, Food Cooler, Clip to Stroller.
Overall, the diaper back pack gets great reviews for durability, quality of material and sturdiness of structure online.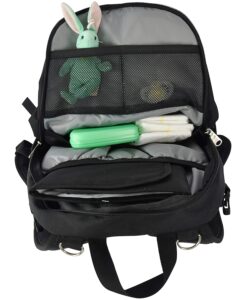 There is plenty of space within the interior of this bag and atop is a mesh compartment that can be used to store a pacifier, stuffed animal or wash cloth that is airing out to dry and won't soak the other items in the bag.
15% OFF Back to School Sale at Obersee.com! Hurry! Promo ends on August 20. CODE: SCHOOL1520. SHOP HERE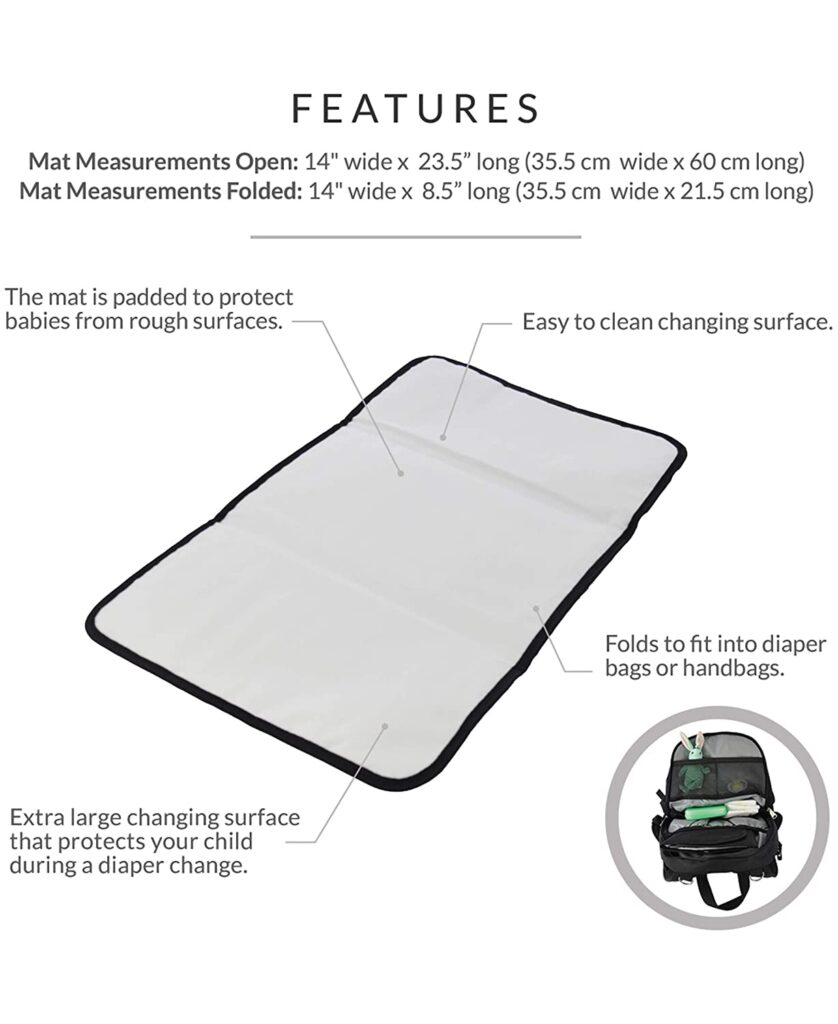 And for moms and dads who routinely go and explore off the beaten paths, there is an extra large changing pad.
You  can be spread it out when there is no available diaper changing station. The size of this pad is extraordinarily large.  Exploring outdoors, socially distant, is a great idea during this pandemic!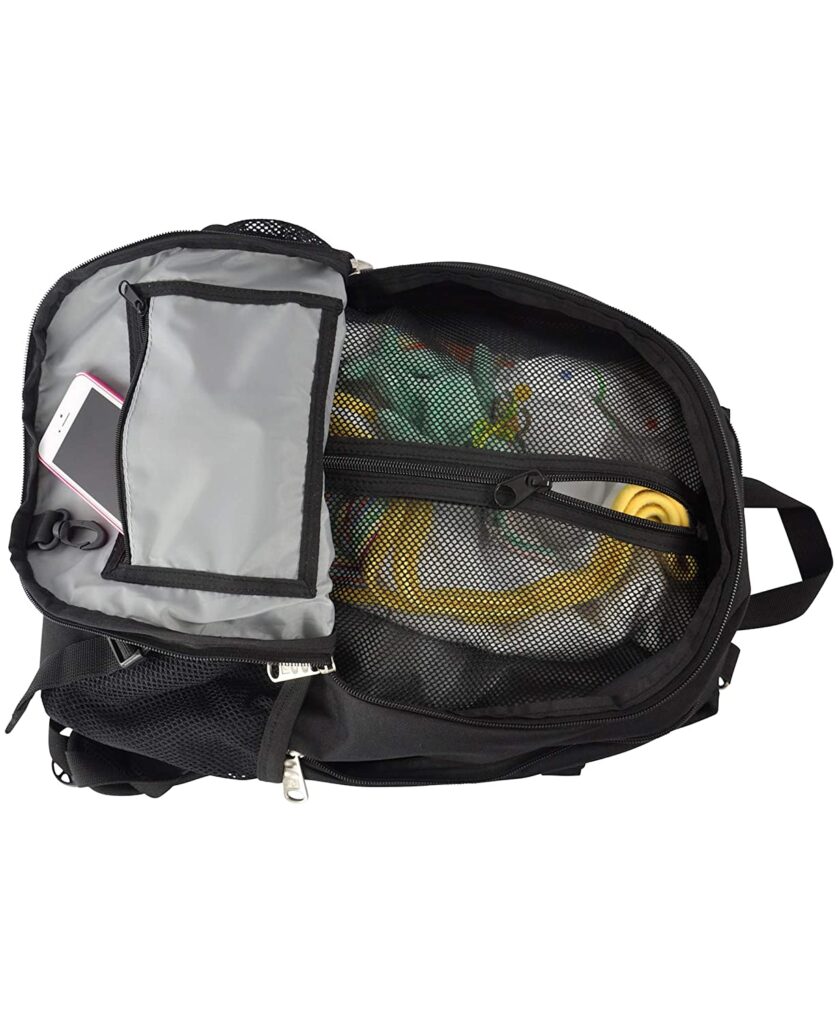 There is a separate compartment in the front that separates blankets, change of clothes and other items. This compartment soiled by spilled foor or drink. The bag has a metal ring that you can use to attach to the stroller and also has a top strap for grab and go functionality.
The best function of this bag is its detachable cooler. You can house baby bottles or snacks in it. The removable cooler comes in a variety of colors if you want to mix and match.

Parker Baby Diaper Backpack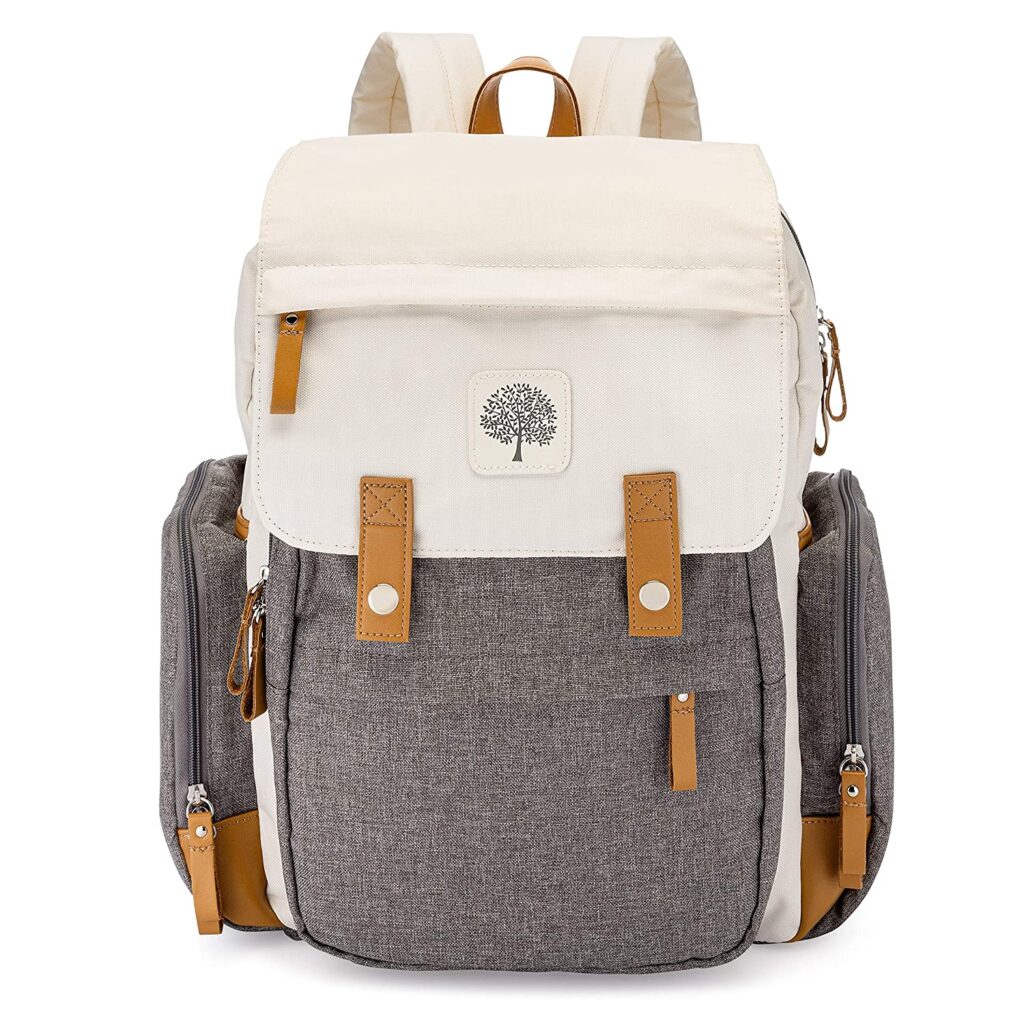 A second functional and stylish neutral diaper backpack bag is the Birch Bag Birch Bag by The Parker Baby Co.
This bad is super large and comes in a chic grey with tan trim,  silver hardware, insulated pockets, stroller straps and a good sized changing pad. I wish the changing pad was a little larger but is it sufficient.
There are ten functional pockets including a "mommy pocket" with key ring, insulated pockets, a laptop/tablet sleeve, changing pad (included) and more. The convenient stroller hooks allow you to connect it to your stroller while you get out for some fresh air after being cooped up inside the house too long.
This bag is also made with a neutral design and for the modern mom and dad in mind. The Parker Baby Co is a family-owned business headed by parents of twin girls, a toddler and a sweet baby boy, which claims to "strive for simplification" when designing products. It gets mainly 4 to 5 star reviews on Amazon.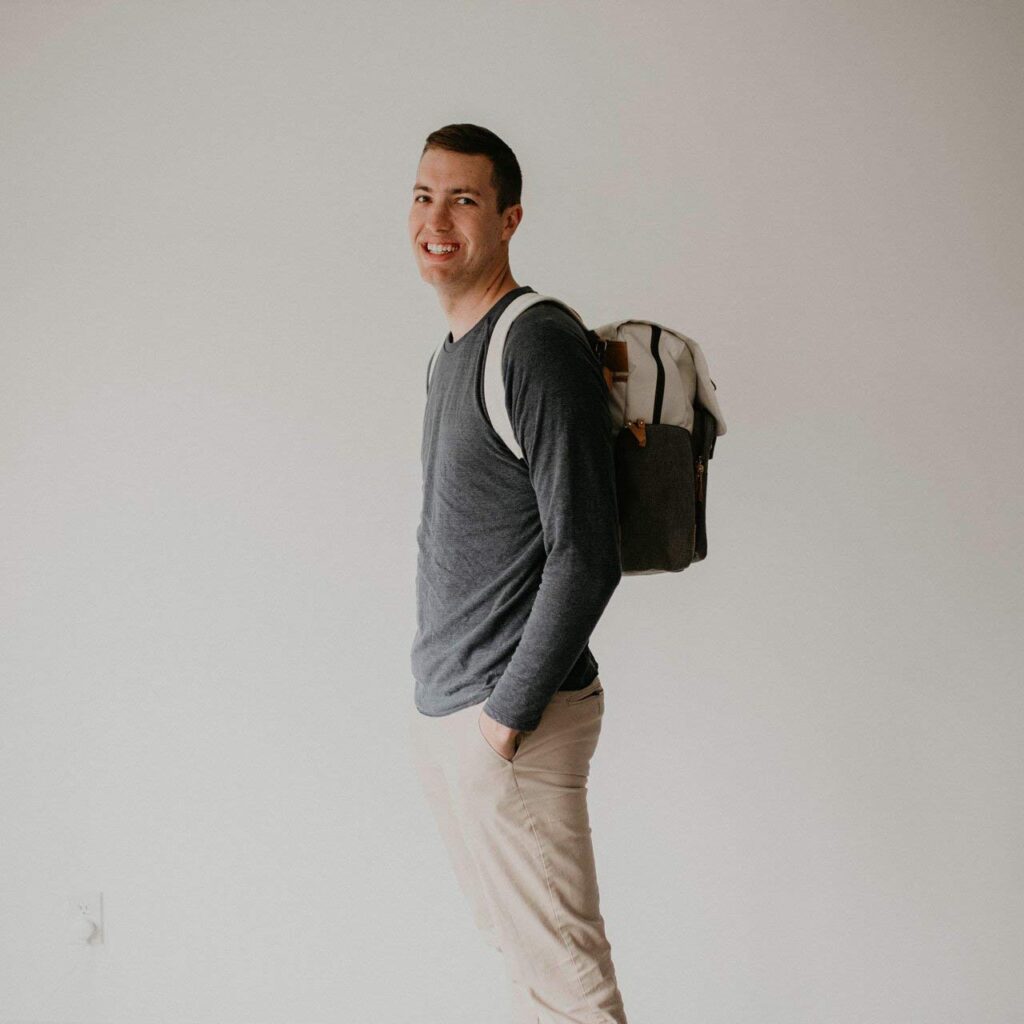 Hap Tim Diaper Bag Backpack
The Hap Tim Diaper bag is a less costly alternative to the previous two which has upper mid price range. This is also cloth bag but is made for the rugged outdoorsy family who don't mind being out in inclement weather. The bag is waterproof! It wicks moisture in light rain.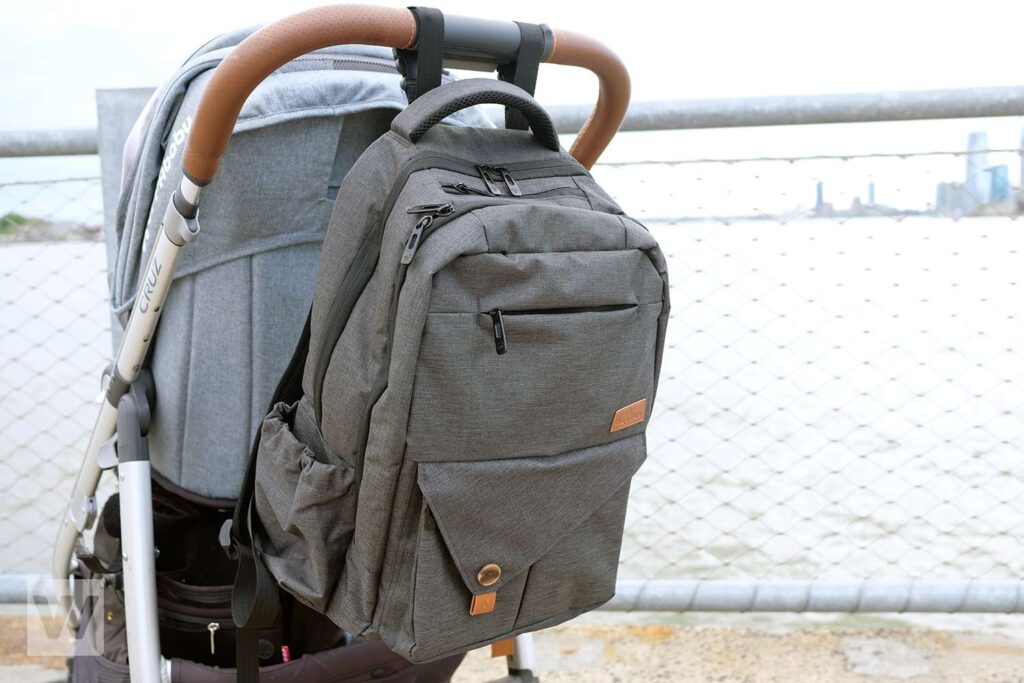 As with the other two pags, the shoulder pads on this bag are padded and extra wide for ergonomical comfort.  It also has plenty of space and compartments inside to chuck all the various things you have to carte along when you take baby out!
This bag also boasts a double design, meaning there is a separate section made to be removable. It can store items as well similar to the Obersee.  The bag is very large and spacious even without the front compartment.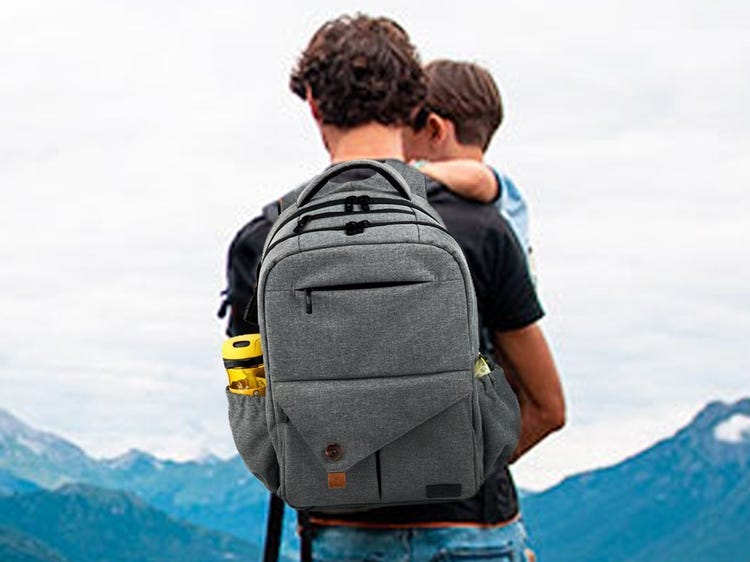 It is also has 18 pockets that you can easily organize all the different things you schlep on trips short and long: your keys, mobile phone, laptop, bottles, change of clothes, burp cloths, receiving blankets, and more.
Finally, for the fan of designer bags, you have the Herschel Settlement Sprout backpack. This sleek yet highly functional back pack features integrated storage for diapers, wipes and toys, with an easy-access folding changing mat that stows in a custom compartment.
It is 17.5 inches deep so if you plan to take your laptop to the park or cafe (when the pandemic is over) you can securely fit it in this bag. It's 100%woven fabric in the signature of this brand. This bad has large storage in the front pocket and external zippered side access to the changing mat when you don't have two hands to manever the bag.
Because it is more of an adventure seeker backpag, it has a waterbottle pocket and a mesh container for yoru accessories.
I also like this non diaper bag version that is sold at Smallable.
There you have it! I hope this review was helpful to you and even if you don't invest in one of these three bags, I hope this post gives you some ideas on what to look for when shopping for your sporty chic diaper back pack!
Good luck, parents and parents-to-be!