Fitting everything on the vacation packing checklist in a suitcase is an accomplishment all by itself
Going on vacation is undeniably fun—but packing a suitcase for that travel is decidedly less fun. Fitting everything on the vacation packing checklist in a suitcase is an accomplishment all by itself, though that can sometimes mean reaching a vacation destination with wrinkled, crumpled clothes or a white shirt that was packed next to some shoes and is now sporting some unpleasant dirt marks.
If getting everything you need into a suitcase before the big trip is the only thing stopping you from entering into full-on vacation mode, you're not alone. As many travelers can attest, finding ways to keep your items organized and wrinkle-free without adding extra weight to your suitcase is a daunting task. From keeping your dirty shoes and clean clothes separate to helping you find exactly what you need upon arrival, we've curated a travel packing list of clever items that will make packing (and unpacking) a cinch no matter where your travels take you.
CHECK THEM OUT
eBags Ultralight Packing Cubes – 5pc Set
$45
Ever open your carefully packed suitcase only to find it a hot mess after touchdown? Packing cubes will organize all of your essentials and help keep them that way—even as your luggage is jostled to and fro en route to its final destination. As an added bonus, these mesh ones allow you to see what's in each compartment, so you won't have to tear apart your entire suitcase looking for that one thing you need before checking your bag at the airport.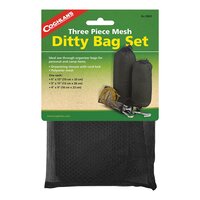 Coghlan's Three Piece Mesh Ditty Bag Set
$5
Mesh bags are extremely versatile, making them a go-to packing accessory. Use them to stow your delicates, group toiletries together, and even separate your dirty laundry.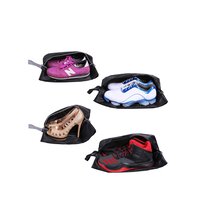 Yamiu Travel Shoe Bags
4 for $12
These travel bags—available with drawstring or zippered closures—have rave reviews, and with good reason: The bags are waterproof and available in larger sizes for those with bigger feet. The bags are also lightweight and good for use as a toiletry bag, dirty clothes holder, and more. They are even large enough for heeled shoes—great news for travelers who like to dress up on the go.