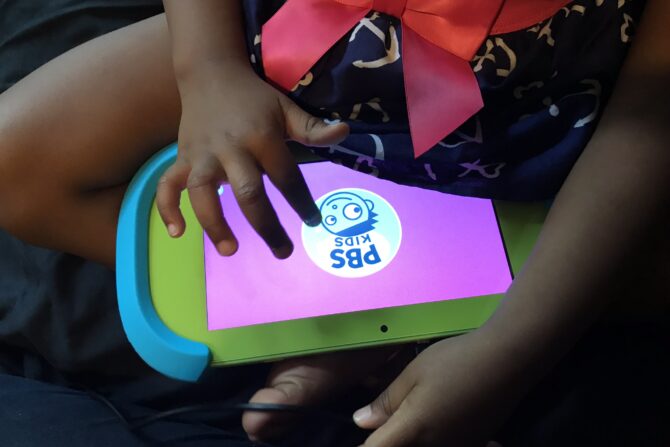 If you have a little one starting pre-school, you're going to want him or her to get started before school starts and therefore should supplement his schooling with play, educational toys and games and software.
I've blogged often about my affinity for ABC Mouse, IXL Math and other online tools and recently was offered the PBS Kids Playtime Pad by EMATIC (retail $69.99) to check out .
It is a kid-safe tablet that connects to LIVE TV and PBS shows via Wi Fi on at 7 inch tablet screen.
The Specs
The device comes with a  .5 GHz Quad-core with dedicated GPU Android, 6.0 Marshmallow, 1 GB RAM, 16 GB of storage and a Micro SD Card though you can add up to an additional 32 GB with a memory card. It also includes a G-Sensor, is Wi-Fi ready and has Front & back Cameras.
Plus, your kid can enjoy 6.5 hours of play time with a single charge. The silicone case is comfortable to touch and protects the tablet from bumps because kids can get clumsy and drop them.
Also, Parents can easily change the default home at any time turning the PBS KIDS Playtime Pad into a full featured Android tablet
Ease of Use:
This device is super intuitive and easy to figure out, maneuver and enjoy. My 3-year old niece Aubrey hit the ground running after we powered it up, connected to the internet and set up an initial account and password.
Seriously, she needed no further help or input from me to get the device going. She's a very smart cookie but I imagine kids these days that grow up with technology are quite savvy when it comes to electronic devices.
If your kid is not familiar with digital  devices, you may need to do more hands on walk through.
Cost
The tablet runs $69.99 which is quite reasonable for all you get and considering the device can be used with more than one child or a parent if converted into a normal Android tablet. Another plus is that there are no in-app purchase options! Woot!  Parents do not have to worry about their 5-year old downloading hundreds of dollars worth of digital add ons and doo dads.
To play, there is also no need to subscribe to a monthly plan or club. It it literally a plug and play, all-in-one device.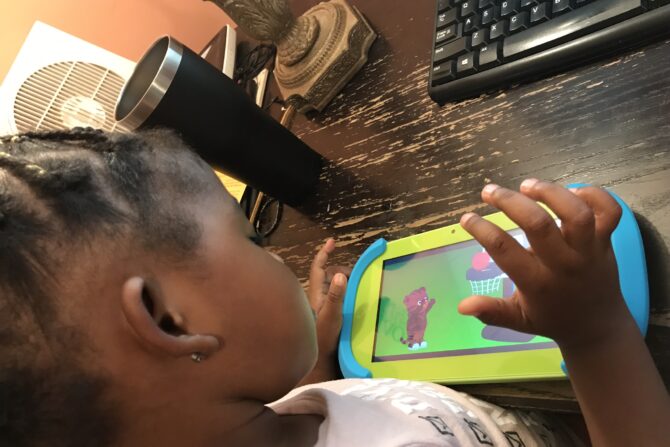 The Games and Activities
The games and activities offered would help her build all the skills she needs to succeed in pre-school when she starts next year. Her mom and I are confident in PBS because it is the #1 Educational Media Brand for children and the company is widely recognized for its innovation.
The educational content installed and downloadable are award-winning, curriculum based and developed with early childhood experts. It comes with hours of free entertainment and over 60 PBS Kids games and videos.
You can set up different profiles if there are more than one child in the family who could use it and approve or block the additional apps so there is total parental controls.
We loved it and I think it would make a pretty great Christmas or Holiday gift for a young kid or a great birthday or anytime gift!
Get it for $69.99 at Amazon.com using my affiliate link!  Thank you!