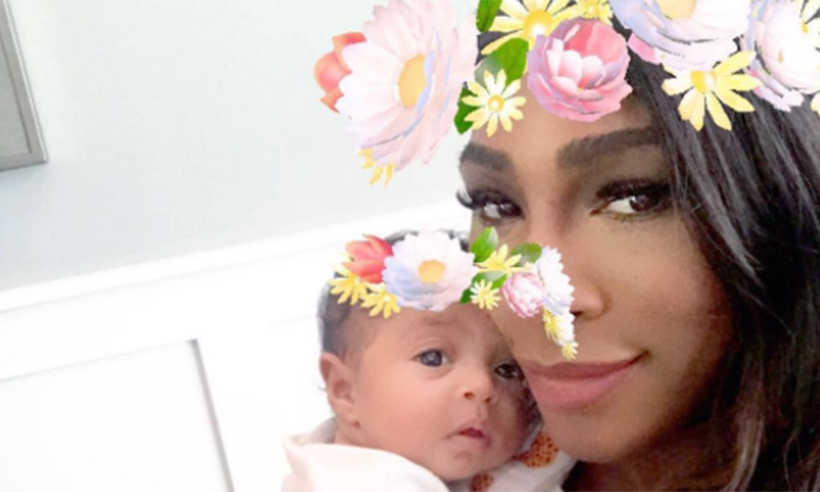 Now that Tennis Champ
Serena Williams
is a mom, she is doing a brilliant job utilizing her multi-million followers on social media by crowdsource gathering insight and information into motherhood.
Last Saturday, she posted a photo of her daughter Alexis Olympia who refused to leave her side while having a meeting. The endearing photo showed the adorable tot with her hand around her mom and clinging on for dear life. Too cute.
"Happy Saturday! I had a biz meeting at my house and Olympia insisted on staying with me. It was so cute." Williams captioned the photo. "She had one arm around me and the other one on me. It was so sweet. Share a raw pic and story of your young one I would love to see! Love you all."
To that request, she got close to 14,000 comments from moms sharing photos of themselves with their children, some as old as 30-year olds who are still quite attached to their moms!
Williams also recently sought out support from her followers by querying them on how long they breastfead their newborn or infant children. "How long did you breastfeed?" the Grand Slam Champ asked. "Is it weird that I get emotional when I even just think about when it's time to stop?"
Fellow moms:
How long did you breastfeed? Is it weird that I get emotional when I even just think about when it's time to stop? pic.twitter.com/YOz4oeIajH

— Serena Williams (@serenawilliams) December 6, 2017
Last week, Nike also announced that it planned to name one of its buildings in its complex after the brand ambassador.
"What a year it has been. First a grand slam win followed by a awesome baby… than the most magical wedding. What next? How about a building!!…" Williams shared of the news. "Nike announced yesterday that one of its new world headquarters buildings will be named after me. It will be the biggest on campus and is scheduled to open in 2019. I am honored and grateful! #TeamNike"
Williams and her husband Alexis Ohaniana welcomed their first child together, Alexis Jr., on September 1, 2017! That day, another marvelous Virgo was born.  [Note: the author of this blog post is a Virgo]
Over 9 million people have enjoyed Bellyitch's Award-winning Celeb "bumpwatch" pregnancy and parenting blog. Trying to Conceive? Download our
FREE Fertility 100
ebook. Hunting for Top Maternity or Kids Brands? Our
Bellyitch 100
is the free resource for you. Baby Shower Shopping? Check out out
Top Picks on Amazon
or our
Gift Guides
.