Singer Deborah Cox revealed her pregnant 7-month belly in her video for Beautiful R U. Deborah and her husband Lascelles Stephens already have two children:son Isaiah,5, and daughter Sumayah,2.

British singer M.I.A., (aka Mathangi "Maya" Arulpragasam) who sings one of my favorite tunes these days, Paper Planes, is pregnant with her first child with her fiance Ben Brewer

Singer Usher revealed that he and his wife Tameka are expecting their second child next Week, on December 15. The family is seen here with their son Usher Raymond V and Tameka's three boys from a previous relationship.

Jill Scott is rumored to be pregnant with her first child with her fiance, drummer Lil John Roberts. Jill Scott announced her engagement to Lil John Roberts in June of this year.

Kimora is looking quite preggers here no, but this is an old photo so who knows? I believe she and Djimon have been trying so…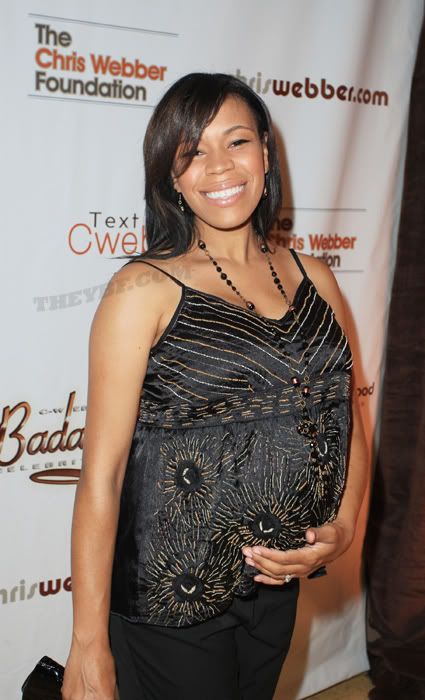 "Diavian" from Sister Sister and "Alicia" from Moesha? She's 29 year old Alexis Fields was due shortly after this photo appeared on YBF back in July. I'm sure she had a baby since then. Alexis is "Tuti" aka Kim Fields baby sister. They look so much alike!
YBF reported last month that Dave Chappelle is expecting again. Dave's wife Elaine is 3 months pregnant. 35 year old Dave lives with his wife Elaine and two sons, Sulayman and Ibrahim, on a 65 acre farm just outside of Yellow Springs, Ohio. Those two names are very interesting and special to me.


Reality show chick Boots, Clarisse, from the Flavor of Love and Charm School is 3 months pregnant.
Not pregnant, but I just found this pic of Monica and her kids on the YBF site that I love. They are beautiful.
bellyitchblog.com+1 more Over 9 million people have enjoyed Bellyitch's Award-winning Celeb "bumpwatch" pregnancy and parenting blog. Trying to Conceive? Download our
FREE Fertility 100
ebook. Hunting for Top Maternity or Kids Brands? Our
Bellyitch 100
is the free resource for you. Baby Shower Shopping? Check out out
Top Picks on Amazon
or our
Gift Guides
.