rumors are circulating that Halle is already pregnant with her second child or trying to conceive one….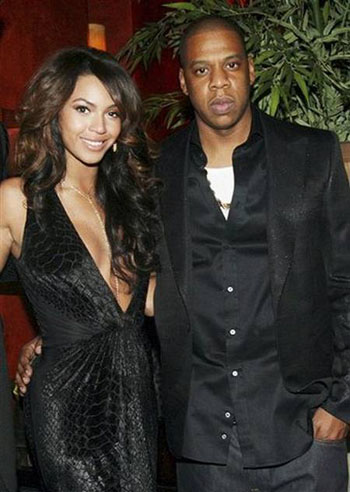 So, we've heard the speculation and rumors that Beyonce is knocked up. When I saw her during an inauguration event, she had her hair pulled back looking not so fabu as usual. Her absence from the Grammys this year also lends to speculation that she may be suffering from morning sickness. Who knows….I'm keepin my ears to the Grindstone. Someone told me Jay Z himself confirmed the pregnancy at a recent event.


But M.I.A. didn't stop the fact that her baby was due on the same day as the Grammys stop her from not just attending, but performing!!! She crooned the hook to the T.I., Lil Wayne, Jay Z and Kanye West performance of Swagger Like Us, which is a line from her Grammy nominated Best Record "Paper Planes."


The Jay Anthony Twins are looking cute these days. They are featured inside the February 16th edition of In Touch Weekly. The twins turn 1 on February 22, but Jlo and Marc Anthony are planning a big birthday bash for them on February 28 at their LA home. The magazine is reporting that JLo wants another baby soon.
Pro Golfer Tiger Woods and wife Elin Nordergren-Woods have announced the birth of their first son, a baby boy named Charlie Axel Woods, born on Sunday, February 8th.

Actress Tisha Campbell-Martin and her husband, actor Duane Martin, are expecting their second child together. Tisha, who is two months along, already has a son Xen, 8, with husband Duane.

Kimora Lee is looking radiantly glowy these days. She and Djimon Hounsou are expecting.
Bobby Brown and his girlfriend Alicia Etheridge have confirmed to various news sources that they are indeed expecting a baby together. Bobby's representative Ravi Dabiesingh confirms, "Yes, Bobby is expecting his fifth child from Alicia." In all, Bobby has five children:15-year-old daughter Bobbi Kristina with singer Whitney Houston. He also has two children with ex-girlfriend Kim Ward and a son with ex-girlfriend Melika Williams. This will be Etheridge's first child. On the real, I know there are a couple dozen other mini Bobbys running the globe.

Actress Nicki Micheaux showed up to the 40th NAACP Images Awards nominee luncheon (February 7th 2009) with what appears to be a baby bump. Nikki has starred in various television shows including The Shield, Six Feet Under, and Soul Food. She is currently starring on ABC Family's Lincoln Heights.
bellyitchblog.com+1 more Over 9 million people have enjoyed Bellyitch's Award-winning Celeb "bumpwatch" pregnancy and parenting blog. Trying to Conceive? Download our
FREE Fertility 100
ebook. Hunting for Top Maternity or Kids Brands? Our
Bellyitch 100
is the free resource for you. Baby Shower Shopping? Check out out
Top Picks on Amazon
or our
Gift Guides
.