Jennifer Hudson's Pregnant pics have been making the rounds on the
net
.
Kimora Lee and Djimon Hounsou name their baby boy born May 31, Kenzo Lee Honsou after Japanese designer Kenzo Takada.
BlackCelebKids.com
is reporting that Savannah Brinson, the girlfriend of NBA player Lebron James, is pregnant with the couple's third child. BCK says it has
confirmed the rumors
. Savannah and Lebron are already parents to LeBron James Jr.,4, and Bryce Maximus James, who will be two on June 14, 2007.
Bobby Brown and his manager girlfriend Alicia Etheridge had their baby recently. This is Mr. Brown's fifth child.
A very pregnant Maya Rudolph seen here with Chris Rock on the set of Grown Ups, an Adam Sandler-scripted comedy. More pics
here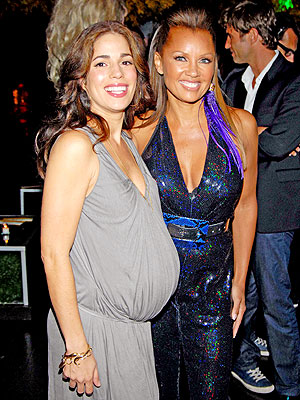 Ana Ortiz from Ugly Betty is due this July and was seen glowing at a recent listening party for Vanessa Williams' new album.
Actress Nicki Micheaux, who is eight months pregnant, attended the 13th Annual Families
Matter Benefit and Celebration Gala at the Beverly Hills Hotel on May 29, 2009. The next day, (2nd photo) Nicki attended the 2009 Disney & ABC Television Group Summer Press Junket with her co-star, actor Russell Hornsby.
Nicki is looking forward to the birth of her child and to the Season 4 premiere of Lincoln Heights, which starts August 4, 9/8c, on ABC Family.
Kelis, seen here in a May 20th photo on a beach, reported on her Twitter account that she likens the later stages of pregnancy to "purgatory"
Taking to Twitter to voice her third trimester angst,
Kelis
is "so ready" to have her baby! Currently eight months and one week pregnant
with her first child
, a son, the 29-year-old singer writes that she has been "living in purgatory."
"I feel like I have been pregnant forever…Okay, yeah the better part of a year! It's an eternity."
There are some staples of pregnancy that she hopes she'll never see again — like leggings! "Good grief, a girl can only stand but so much Lycra in one lifetime," she notes. "I have had enough…I want corsets and and tight jeans and platform stilettos and I want it now!"
The discomfort she describes is something most moms know all too well. "My rib cage is being attacked by my stomach which is annihilating my lungs," she writes.
"I want this little martian now! I can't wait — the suspense is crazy."
Baby boy will be the second child for Kelis' estranged husband, rapper Nas, who is already dad to a 15-year-old daughter named Destiny. Kelis' due date is July 21st.
——–
File these two gems under the category "missed"!
Canadian-born R&B singer Deborah Cox welcomed a little girl into the world on February 23. This is her third child.
Cox gave birth to Kaila Michelle Stephens in Miami, Florida. Kaila weighed in at 7lbs. 7oz. This is the third child for Deborah and her husband Lascelles Stephens. Kaila was welcomed home by big brother Isaiah,5 and sister Sumayah,2.
Wanda Sykes, who recently came out of the closet, and her wife, Alex, welcomed twins on April 27. Alex gave birth to the couple's first children, daughter Olivia Lou and son Lucas Claude. Olivia weighed 6 lbs., 7 oz., and was 19 inches long. Lucas was born at 7 lbs., 9 oz., and was an inch taller than his sister.
The couple met in 2006 and married on Oct. 25, 2008 in California, though Sykes did not publicly come out until November, at an anti-Proposition 8 rally in Las Vegas.
Sykes split from her husband David Hall in 1998 after seven years of marriage.
bellyitchblog.com+1 more Over 9 million people have enjoyed Bellyitch's Award-winning Celeb "bumpwatch" pregnancy and parenting blog. Trying to Conceive? Download our
FREE Fertility 100
ebook. Hunting for Top Maternity or Kids Brands? Our
Bellyitch 100
is the free resource for you. Baby Shower Shopping? Check out out
Top Picks on Amazon
or our
Gift Guides
.