Actors Golden Books and D.B. Woodside are Expecting a Baby
The actress recently wrapped the indie film Polish Bar, while D.B., 39 — best known for his role as President Wayne Palmer on 24 — is currently appearing on HawthoRNe. Golden and D.B. began dating in 2008.
Source
Expectant mom Kelis attended Samsung's 8th Annual Four Seasons Of Hope Gala at Cipriani Wall Street on June 16, 2009 in New York City. The singer is due next month and is expecting her first child with rapper Nas. She told
TMZ
recently that she's run out of money and her estranged husband Nas has yet to pay for any pre-natal expenses , even though he is well-off.
As a result, the expectant mom has hired a lawyer and is asking a judge to order Nas to pay spousal as well as child support. In addition, Kelis and her lawyer are demanding that Nas pay all pregnancy-related expenses, and one-half of all medical expenses after the child is born. She has also requested that $3,500 be allocated for the baby nurse after the child's birth, and $20,000 for strollers, cribs and other baby supplies.
Kelis says, "My survival is based on [Nas'] will at this time. If he does not want to pay for an expense, it does not get paid."
The singer filed for divorce from the rapper in April of this year. The couple married in 2003 and are expecting the birth of their baby boy next month.
I am not feeling this look though. Ugh. I think it's the red lipstick. No, the silver prom heels. No, the Blue peacock hair. I think that's it. What happened to the motto, though shall be natural and not dye thy hair when preggers? EEk!
Judy Reyes, who stars as sassy nurse Carla on Scrubs, is expecting her first child with her boyfriend, director George Valencia, her rep tells PEOPLE exclusively.
The Alma Award-winning actress, 41, who appeared on HBO's Oz, recently starred in the Lifetime movie Little Girl Lost: The Delimar Vera Story. She also appeared in Glow Ropes: The Rise and Fall of a Bar Mitvah Emcee, a Los Angeles Latino Film Festival award winner written and co-directed by George. source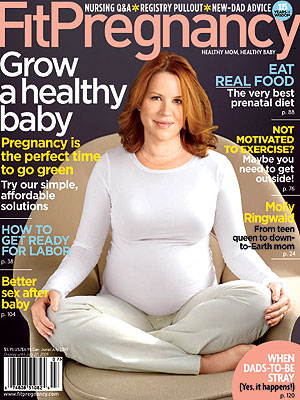 Courtesy Fit Pregnancy
According to Celebrity Baby Blog:

Molly Ringwald is striving for a natural birth with the boy/girl twins she expects in early August, but her choice has been greeted with resistance from some.
"It's not easy to find an OB who won't immediately schedule a C-section when you have twins," she explains in the June/July issue of Fit Pregnancy. "It feels like our country has gone a little crazy on that front."
That said, the 41-year-old The Secret Life of the American Teenager star will keep her eye on the prize — two healthy babies! — and adjust her birth plan accordingly.
"I really do feel that giving birth the natural way is important. Of course, if they tell me I have to have C-section because it's dangerous for the babies not to, I won't say no. But I don't want to discount it as a possibility."
Although Molly and husband Panio Gianopolous never envisioned such a large age gap between their daughter Mathilda Ereni, 5 ½, and her younger siblings, it turns out that the timing couldn't have been better. Read More here

Rumor has it, Lil Wayne has two babies on the way. It is already reported that Actress Lauren London is six months pregnant with Wayne's son and Weezy's fiance (in photo ) Nivea, an R&B singer who had one semi-hit but hasn't really been on the map in ages, is rumored to be having a boy as well. She has children with her ex husband, super producer turned singer Dream. source
This dude is such a slut! This will be like um, 4 baby mamas. Didn't I report about another woman giving birth to his child less than a year ago!? Eww!
Tracy Mourning, wife of former NBA player Alonzo Mourning, is pregnant with the couple's third child. The couple made their
announcement
at the
SoBeFit
magazine cover party on Thursday night. Tracy was asked whether she works out with her husband now that he has retired and in response, Tracy coyly admitted that she is pregnant.
Tracy and Alonzo are already parents to Alonzo III,12, and Myka Sydney,8.
File this under Missed!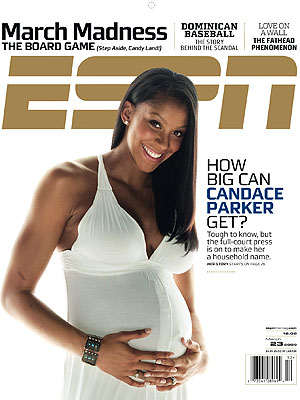 Candace Parker
, the reigning WNBA Most Valuable Player and Rookie of the Year, gave birth to a baby girl May 13 at 11:29 a.m. in Los Angeles. It is the first child for Parker and husband Shelden Williams of the Minnesota Timberwolves.
The baby girl weighed in at 7 pounds, 6 ounces and 20 inches in length.
"Shelden and I are thrilled," said Parker. "This is such a life-changing moment for us, we feel blessed to have a healthy and beautiful baby girl."
The couple has chosen a name for the baby, but have decided not to disclose it at this time.
Parker plans to rejoin the Sparks once she has received clearance from her physician.
File this one under interesting conception
Cat Cora and Wife Each Pregnant With a Boy!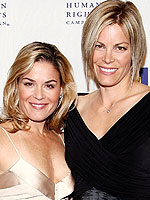 Alberto E. Rodriguez/Getty
Iron Chef Cat Cora is cookin' up a baby — and so is her wife Jennifer! Both expecting boys, Jennifer, 37, will deliver in April, while Cat, 41, is due in July.
The couple's new sons are from the same sperm donor as their older boys, Caje, 23 months and Zoran, 5. Zoran and the baby Cat is carrying are from Jennifer's eggs, while Caje is from Cat's. In Jennifer's current pregnancy, both women's embryos were transferred, so the biological mother is unknown. The couple do not to plan to conduct DNA testing to determine this.
"[Jennifer] carried my embryo and I carried hers," Cat explains. "It's like surrogating, but obviously all of our kids are equal."
"It's really crazy! We decided that having them a year apart is harder than having kids as infants together."
bellyitchblog.com+1 more Over 9 million people have enjoyed Bellyitch's Award-winning Celeb "bumpwatch" pregnancy and parenting blog. Trying to Conceive? Download our
FREE Fertility 100
ebook. Hunting for Top Maternity or Kids Brands? Our
Bellyitch 100
is the free resource for you. Baby Shower Shopping? Check out out
Top Picks on Amazon
or our
Gift Guides
.