I was going to post a fall/winter followup to a past Bellyitch post about maternity fashion, but this one was going to be the 10 Must Have Maternity gear for the working while preggers set, but it's not ready yet…so….I am reposting another Popular Post from the Past: The Secrets to a Chic Pregnancy, featuring tips provided by the designers of Isabella Oliver, Vanessa & Baukjen.
Also, The maternity Do's and Don'ts can be found
here
. And below the secrets are some pieces covered in a previous post.
Look for the 2009 Fall & Winter Top 10 Maternity Must Haves next Thursday!
Sshhh!
Here are our secrets for a chic pregnancy. Successful style tips that we've applied during our 5 pregnancies and which we have lived by whilst dressing the world's most style conscious pregnant women in Isabella Oliver. Hope they work for you too, Vanessa & Baukjen ——>>> designers of this line
Play your curves
For many of us, pregnancy creates amazing cleavage. Maximise this asset by drawing attention to your curves with plunging necklines, scoop or V.
Select your fabric
Stretchy and drapey fabrics like jersey fit seamlessly into every wardrobe. Style up or dress down, versatile and flattering with a smooth silhouette that grows with you and always fits.
Keep it simple
The world's most stylish women choose clean lines and quality fabrics. Work your look around sleek shapes, good cuts, pregnancy friendly fabrics like jersey and solid colors for that polished finish.
Perfect fit
Choose clothes for a body flattering fit. Too big, too small, too bad. Reveal your pregnant shape with wrap styles that follow your curves and adjust at every stage.
Reveal your beauty
Clever maternity designs enhance your best features; that elegant neck, delicate shoulders and fulsome cleavage accented with a low V neck, halter shape or sleek bandeau.
Mix new accessories
Create different moods for one outfit by playing with the latest accessories. Add a slouchy bag and wide cuff one day, a sparkly necklace and upswept hair the next. Invent a new look every day.
Look amazing naturally
You have never looked better. Your healthy lifestyle shines through in glowing skin, glossy hair and sexy cleavage. Maximise it with simple hair and make-up.
Fixate on footwear
Take that iconic look from work day to party night by swapping boots for sexy heels. Take along your softest ballerinas for blissful comfort on the way home. It's that simple.
Pamper and polish
Try to find time to treat yourself to a really good haircut, pedicure and manicure – you deserve it.
Be true to size
If you're tempted to buy bigger, don't succumb. The extra fabric in non-maternity wear may cover your bump, but it will swamp all your body's sexy new curves.
Polished in patent
Add gloss to this season's dark palette with patent leather accessories which are all the rage now. Invest in a gorgeous bag, sexy shoes or a shiny wide cuff.
Style with know-how
Wear this season's voluminous pants by balancing with a fitted top or crop jacket – just add patent platform heels to make your legs look sky high.
Lift your hemline
Hemlines are rising – for a maternity take on the leggy look that means you don't have to bare too much, just layer over leggings or opaque tights and platform heels.
Glamorise your outerwear
Add a glamorous edge to coat dressing by slipping on this season's long black leather gloves. Twist the trend with gloves in a deep jewel accent colour worn with black.
Grab a bag
Transform your day outfit by trading your slouchy tote for a jewel-encrusted clutch. Sweep your hair into a sleek chignon for iconic evening chic.
Available near you
This dress from Nordstrom.com from A Pea in the Pod line would look great at a holiday party
from Nordstrom.com…this cute frock would look great at my law school holiday party…
this cute shirt from Nordstrom.com would be great for Thanksgiving or a friend's party
I can see wearing this to a trade or industry meeting
what a cute way to avoid the inevitiable question: "so do you know what you're having?"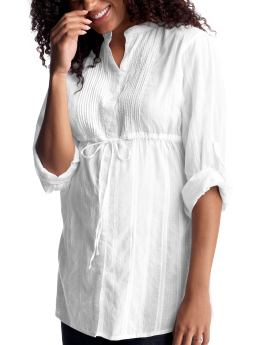 This tunic from Gap.com would be a great basic "classic" to add to my existing repertoire for an unexpected party…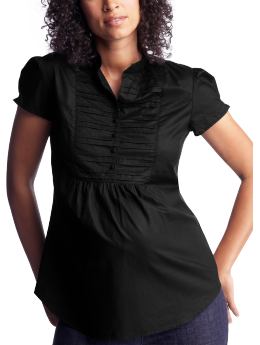 i love this number from Gap.com cause it looks like i can pair this with a pair of jeans or grey slacks or whatever and it would work.
bellyitchblog.com+1 more Over 9 million people have enjoyed Bellyitch's Award-winning Celeb "bumpwatch" pregnancy and parenting blog. Trying to Conceive? Download our
FREE Fertility 100
ebook. Hunting for Top Maternity or Kids Brands? Our
Bellyitch 100
is the free resource for you. Baby Shower Shopping? Check out out
Top Picks on Amazon
or our
Gift Guides
.