Last week, it was revealed that early speculation and news leaks led Celine Dion to reveal earlier than she wanted to that she was pregnant. It turned out the in vitro cycle did not implant properly and she was forced to announce that she was NOT indeed pregnant. In a post last week, I went off on the dangers of the premature celeb Bump Watch pronouncement.
The term "Bump Watch" has been all the rage since Julia Roberts first got pregnant with her twins in the late 90s. These days, it is common for gossip rags, TV celeb watch shows like Extra and Entertainment Tonight and papp outlets like OK magazine and TMZ to go on full fledged "bump watch mode".
There is also the perception that the public's obsession with the bump watch encourages celebrities who may not ordinarily be ready for a baby to try and cre
ate one just for the attention.
Yup, people have such low expectations of celebrity motivations for doing stuff to keep themselves in the spotlight. But it is not unwarranted when you takefor example what a baby can do for C-Lister like KendraWilksinson, formerly of E's "The Girls' Next Door" and her own reality show "Kendra". Since getting pregnant, she's landed the cover of celeb gossip magazines and wouldn't necessarily have without her willingness to show off a bikini clad bump on their cover.Some say the recent obsession with celebrity pregnancies is misguided and encourages young girls to want to get pregnant because they envy all the attention given to pregnant women. Perhaps.
In any event, I thought it would be interesting to explore recent examples of when the Bump Watch was all WRONG!
Check out the Gallery of Celebrities whose outfits lead to unwarranted pregnancy speculation.
Leading us off is rapper/radio personality Lil Mo, who wore a dress that she selected last minute and did not fit her body so much so that it created this unnatural bubble which led to speculation of her being pregnant last summer 2008. She was not.
The reason why celebs should avoid Baby Doll dresses. Instant preggers speculation as was the case with Paris Hilton in June 2008 source
And if you are usually and naturally skinny like model Kate Moss, you shouldn't eat a lot and then put on a skin tight dress otherwise, people will think you are pregnant and report on it as was done with Kate in Nov, 2008 source

Same goes with Fergie, who later explained that despite what people think, she is not naturally thin and has to spend hours in the gym to maintain a svelt figure. This February 2008 photo below (source) forced her to reveal that little nugget about her physique.
This month, Kate Hudson had to fess up that this bump was because when she quit smoking she started eating more.
Then sometimes, a far away photo can be deceiving enough for rags that want you so much to be pregnant that they are willing to make unreasonable conclusions. Ask Jennifer Aniston who last November had to deny a photo was of a bump. source
I know I'm guilty of blogging on Bellyitch in the past that celebrities like Halle, Mariah Carey, Beyonce and E
va Longoria were in fact pregnant when all four later came out and said they weren't. I just knew this photo below of Mariah Carey with her "hand-on-the-tummy", which is a very very common gesture among pregnant women, was a very clear sign she was pregnant back in November 2008. Who knows. Maybe she was.
And tell me Eva didn't look "with child" in that pic? Well, she wasn't and later said she was in relationship heaven. You know when you let your guard down, going out to eat and just fat and happy with a new love? Yeah, that was the reason for the star who has said she is naturally thin to look bigger.
And every other week, Angelina is wrongly accused of being pregnant. I think this is the latest photo in circulation fueling the latest rumor. But with her, you never know, you may end up being right.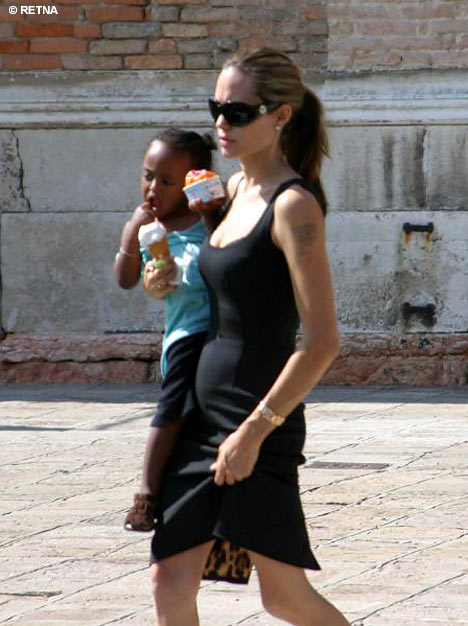 In September 2008, Papps caught Uma Thurman sunbathing revealing a bloated tummy and immediately sparking speculation. She later denied it.
When Jennifer Love Hewitt showed up last spring 2008 at the Kid's Choice Awards in this number, lips starting flapping that she was pregnant. She denied through her rep later.
Apparently, it's not limited to America. Bollywood actress and MTV India VJ Malaika Arora Khan had to deny being pregnant after the usually svelt actress was photographed at the Lakme Fashion Weekin walking the runway in a dress that gave the illusion of a very tiny bump. (see below) She probably should have put on a girdle!

Then you have these twoJennifers (Lopez and Hudson) who both denied being pregnant when they were well very obviously pregnant in these two photos taken smack in the middle of constant Denial.Guess they didn't want any part of the Belly Bump madness.
bellyitchblog.com+1 more Over 9 million people have enjoyed Bellyitch's Award-winning Celeb "bumpwatch" pregnancy and parenting blog. Trying to Conceive? Download our
FREE Fertility 100
ebook. Hunting for Top Maternity or Kids Brands? Our
Bellyitch 100
is the free resource for you. Baby Shower Shopping? Check out out
Top Picks on Amazon
or our
Gift Guides
.