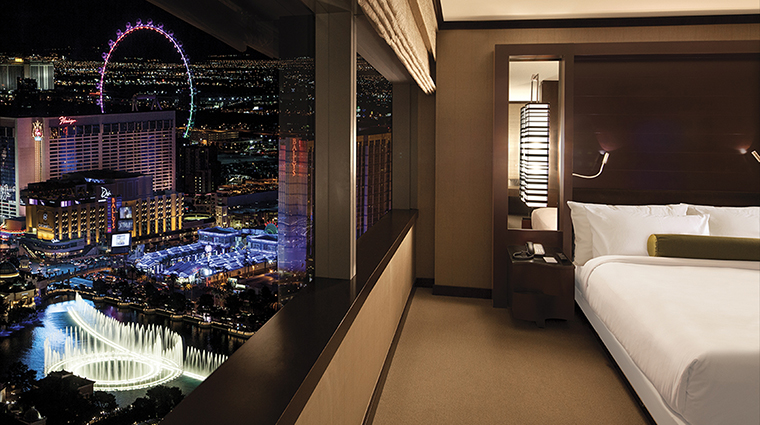 (Edited: Since I published this review, during the last two times I traveled to Las Vegas over the last couple of years, I stayed at this child-friendly hotel. There were lots of families. The views in the rooms are breathtaking. The lobby stays busy so there's lots of great people watching. The pool, lounge, spa and gym are top notched. There is ample equipment for the guests. The staff is friendly and accommodating. I've never had a bad time here and HIGHLY HIGHLY recommend staying here when you visit. If you look, you can find a condo unit to stay in for a great weekly or weekend rate)
Las Vegas is my personal favorite vacation destination in the United States. It might not have a beach, but the shopping, shows, weather and endless activities do it for me.
Initially, it may not appear to be a place a pregnant women would want to go to for a baby moon with her spouse or partner when she is expecting for the first time because the city, known at sin city, is also infamous for smoky casinos.
But you can actually avoid all that by checking in to Vdara – a  hot non-smoking, non-gaming, all-suite hotel that is ideal for health-conscious guests.
From what I've learned, each suite has a stunning view of Vegas or its surrounding mountains, and several of them overlook the iconic dancing Fountains at nearby Bellagio hotel (another one of my fave hotels on the strip).
The hotel caters to moms-to-be. Its Spa and Salon uses high-grade herbs, flowers, fruits, veggies-derived ingredients and a Doula-trained staff that use chemical-free products on pregnant women.Wonderful, because as we know, you don't want to get just any massage and possible trigger labor! The prenatal massage, I can imagine, would be wonderful for tackling and helping to increase circulation in the back and leg area where pregnancy-related backaches, swelling and leg cramps are common.
And no need to feel left out either at the bar. The mixologists at Vdara's indoor/outdoor lounge are masters at serving up awesome alcohol free drinks, I've been told. The Berry Lemonade, for example, is made of muddled blueberry, blackberry, and rasberry with a garnish of fresh lemon. Yummers!
And at the Market Cafe Vdara, Executive Chef Arnoud Masset whips up organic ingredients complemented with refreshing smoothies, teas and coffee.
Nice!
Nearby is Jean Phillippe Patisserie in ARIA to fulfill a sweet tooth craving for fresh made crepes of dark cocoa crafted from the finest European chocolate.  Is that the buzz word of any pregnancy, or what? *sigh*
There are a variety of other restaurants on site and dads to be don't  have to be left out either. They too can take in a male spa package or check out the latest game in the ARIA's Race & Sports Book which features mega HDTV screens.
Nearby are all the top designer and shops, casinos and inside the hotel is a  pool and lounge area that include semi-secluded plunge pools and cabanas. Yay!
Prices for the Vdara's Bed & Breakfast Package is $288 weekdays and $388 weekends; and come with a 2 night stay in a Deluxe Suite; $50 in-suite dining breakfast credit; Complimentary 2 p.m. late check out;  and Nightly turn-down service.
The Vdara's Romance Package ($453 weekdays; $573 weekends) comes with a $100 in-suite dining credit; Complimentary in-suite movie; Complimentary 2 p.m. late check out; Nightly turn-down service; Complimentary hand or foot paraffin with any facial or massage booked; and 10% off any spa or salon retail purchase.
Finally, the Vdara's Escape Package ($510 weekdays; $610 weekends) includes 2 nights in a Deluxe Suite; Two 50 minute Spa treatments; and 10% off at Spa & Salon Vdara retail store.
It all reads like a fab time!
bellyitchblog.com+1 more Over 9 million people have enjoyed Bellyitch's Award-winning Celeb "bumpwatch" pregnancy and parenting blog. Trying to Conceive? Download our
FREE Fertility 100
ebook. Hunting for Top Maternity or Kids Brands? Our
Bellyitch 100
is the free resource for you. Baby Shower Shopping? Check out out
Top Picks on Amazon
or our
Gift Guides
.