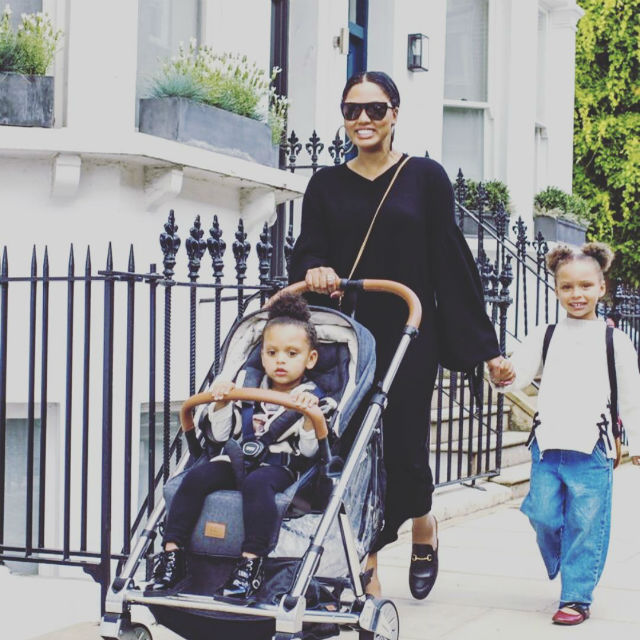 TV Chef Ayesha Curry is no stranger to online criticism and she recently had to clap back once again, this time to mommy shamers who seemed to resent her for posting photos of her children and not her nanny. Right?!
While enjoying some down time with her husband during a quick vacay in the UK, the purveyor of the food delivery biz Homemade paused to show off a little slide show presentation of their excursions to her fans and followers in social media.
The positive feedback to the share was interrupted by a troll who asked,"Can the nanny get in the pic too?
He/She or It continued: "We know you aren't doing the heavy lifting yourself. Wasn't Riley in this outfit 2 days ago? This pic wasn't from yesterday. Great on your bro for that free trip."
While we usually shy away from giving shine to the few squeaky wheels that make the most loud and obnoxious noise for attention, it is really hard to avoid them because their toxicity and harshness can grate the nerves of even the most thick-skinned individual.
Not one to let all the negative ninnies get the last word, Curry clapped back:
"Definitely have a nanny and my mother helping me on the trip. I work a full-time job on top of being a mom like many women do every day. Love every second of it. It takes a village to raise children. Assuming you don't have any with cryptic and presumptuous comments like these. Please carry on and try your best to do it with positivity and a smile. Women can be mama's and working women and be great at both. Don't box us in."
Good for her! Perfect reply!
h/t BCKOnline 
bellyitchblog.com+1 more Over 9 million people have enjoyed Bellyitch's Award-winning Celeb "bumpwatch" pregnancy and parenting blog. Trying to Conceive? Download our
FREE Fertility 100
ebook. Hunting for Top Maternity or Kids Brands? Our
Bellyitch 100
is the free resource for you. Baby Shower Shopping? Check out out
Top Picks on Amazon
or our
Gift Guides
.