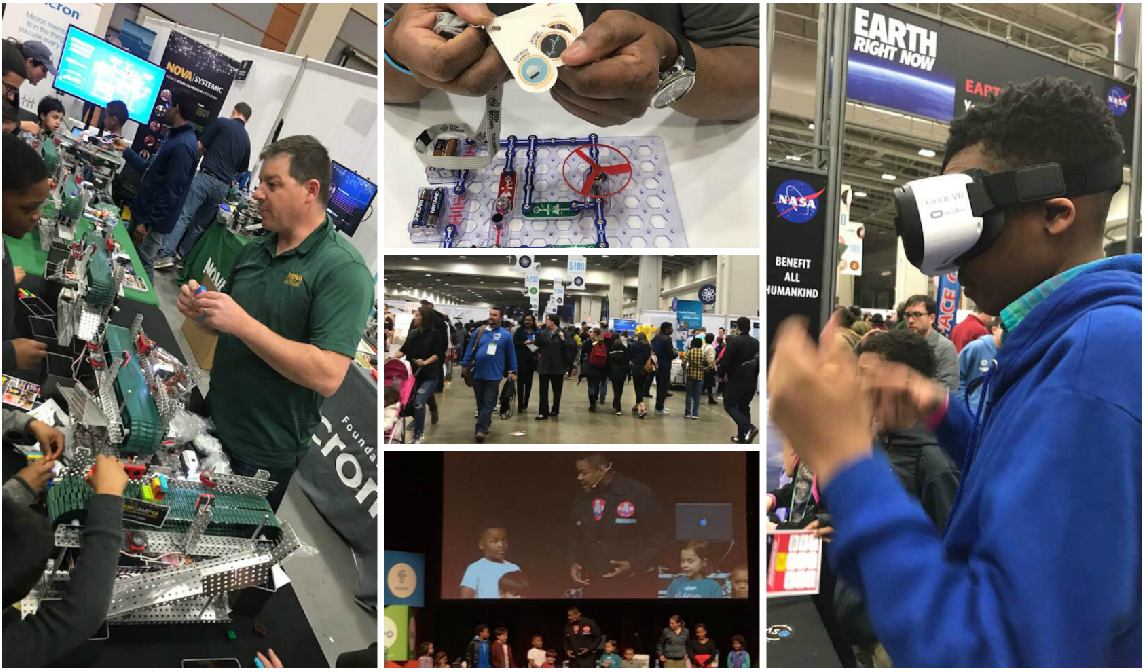 I sojourned down to the Walter E. Washington Convention Center in Washington DC this past weekend as a guest of Razor to check out some of the various science, technology, engineering and math-related exhibits, stage shows, demonstrations and information being showcased to get children interested in these fields at the annual US Science and Engineering Expo. The event included exhibitors, performers, speakers, partners, sponsors and advisors for major academic centers, colleges and universities, leading research institutes, government agencies, cutting-edge high tech companies, museums and community organizations.
Oh and lots of science and tech camps! Here is an Official Map of the exhibitors, shows and presentations.
I took my eldest son, who is almost 16 and is interested in gaming and so much so, he is in the process of building his very own computer from scratch!
When we arrived mid afternoon on Saturday, April 7, inside, the 2.3K square foot convention hall which takes up three city blocks was electrifying and bustling with families, school kids, neighborhood and community groups in coordinated tops milling about in excitement.
Our first stop was our host Razor which agreed to generously gift us a Razor scooter and cool socks in advance of writing about our experience at the Expo.  All two days of the Expo, the Razor booth had a steady stream of fans stopping by to check out the latest products and innovation of the disruptive company that transformed the experience of scooters.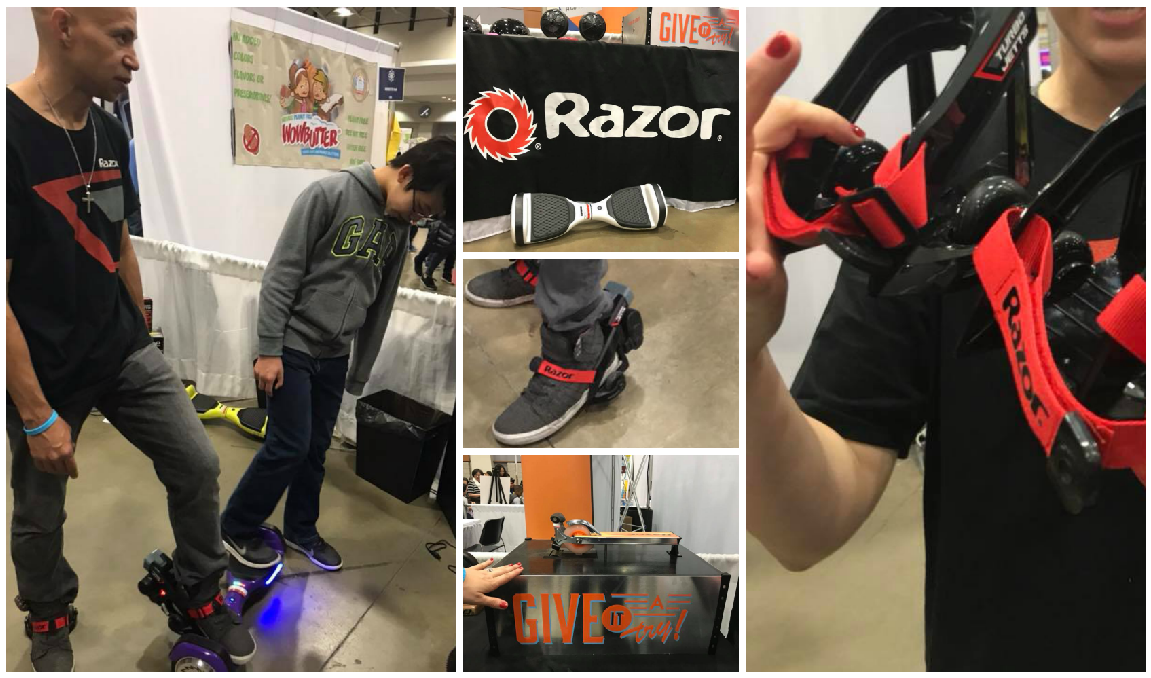 Reps  showed us the latest best seller, a pair of electric roller jets that go for themselves! Very cool! My how times have changed from my day of wearing plane metal roller skates on the streets of DC.
I was excited to learn that the scooters made by this top seller of skateboards, hoverboards, trikes and electric bikes have come. One of the more popular and newest products Razor sells these days is the Turbo Jets . They were on display anda brand ambassador wearing the crowd gathered around how to just start skating and then relax as the electric-powered heel wheels amp up to 80-watt, kicking the geared-drive motor that gives the user a boost.  The Jets can travel as fast at 10 mph. They looked relatively easy to use and appeared durable from my review and touch. Watch more  here:
SEE SOME OF THE VIDEOS HERE:
Another rep gave us a peek at how the spark pads, which are part of the Razor Spark Scooter's braking mechanism, work. They give off real sparks when the user brakes! Very cool! It reminded me of the character Marty McFly's Hoverboard in the 80s movie Back To The Future II.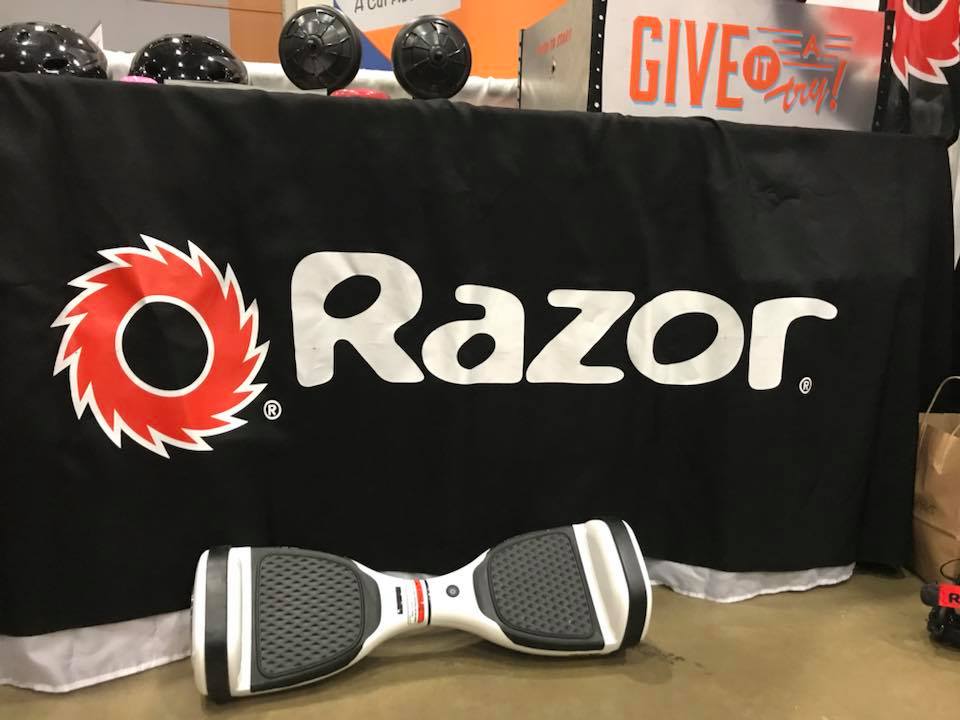 Just so you know, she also shared with me that guests of the convention last weekend (and shhhhhh readers of this Blog too) can take advantage of 15% off using this coupon code. That's a savings of close to $20 off the Turbo Jets which currently retail for $129 on the Razor website, bringing the cost down to a little over $100! That's a steal. There is FREE shipping on all online orders through the website.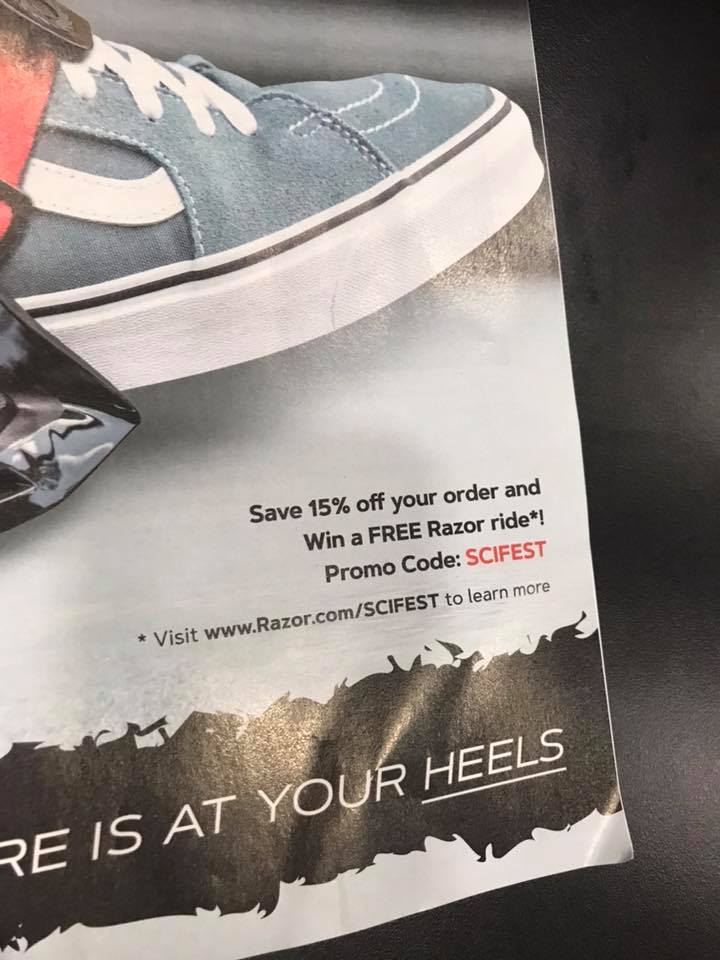 I'm not sure when the coupon code expires so hop on it fast!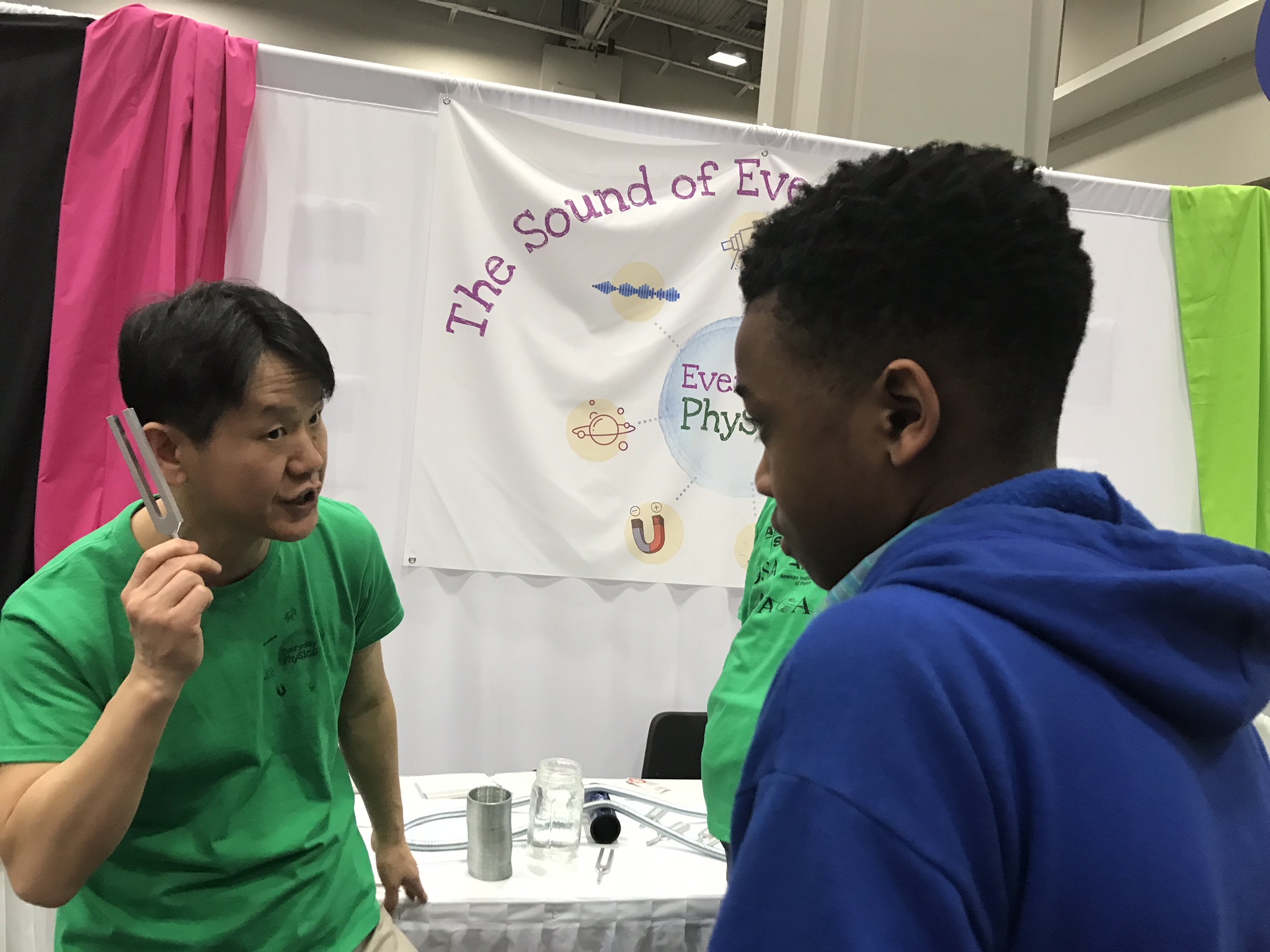 Eldest and I then went on to enjoy the rest of the Expo, making stops through Physics Row, the NASA exhibit, some Nature Science displays and caught the last of the stage performances of the day, hip hop scientist Grand Hank.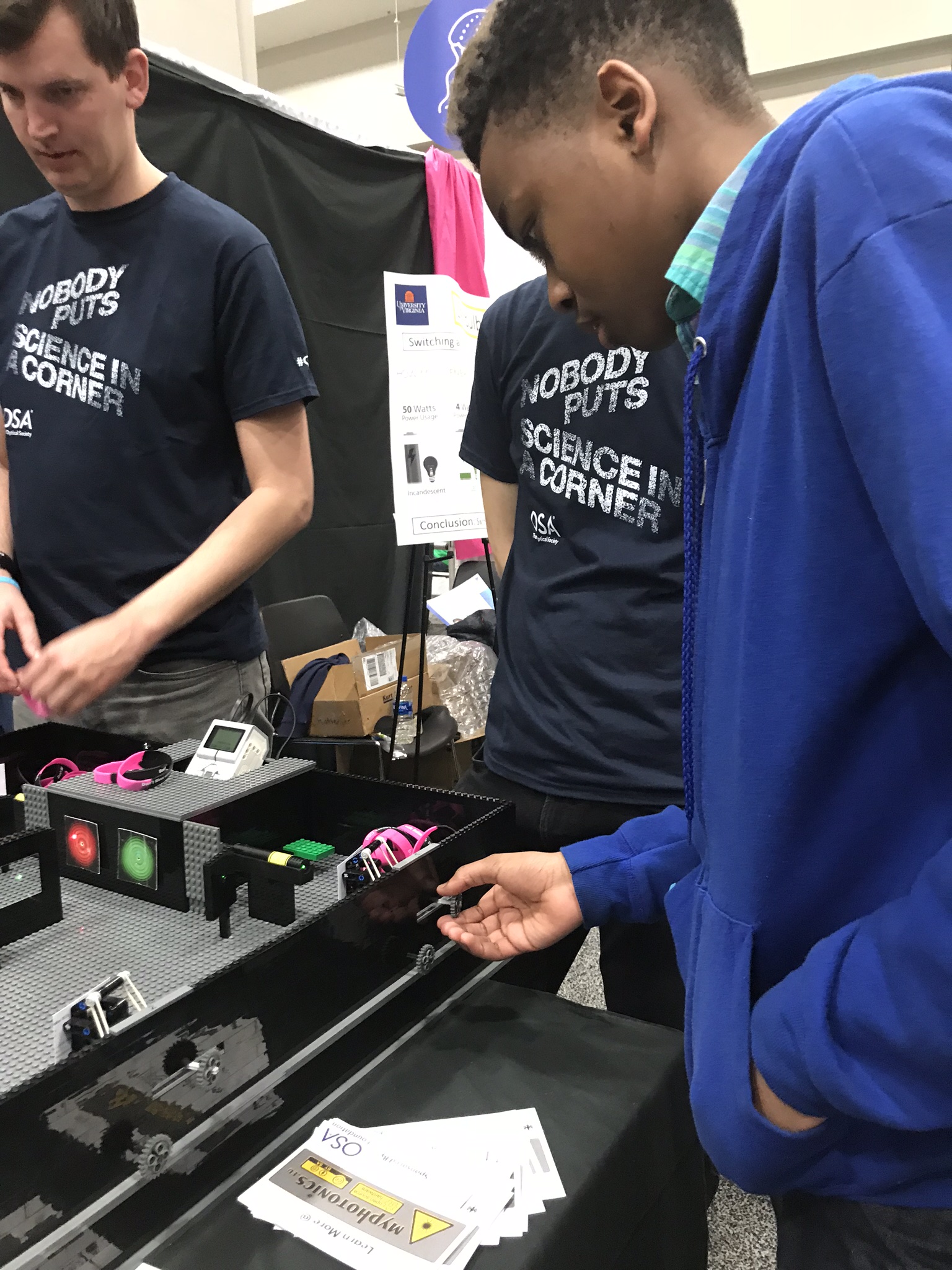 I missed but would have loved to see Honda's robot Asimo do a demonstration. Here is a video another attendee captured:
Unbelievable balance. Adjust center of gravity after each step. #SciFest @USAScienceFest @ASIMO pic.twitter.com/md2yOOWhtp

— LMESquad (@LMESRobotics) April 8, 2018
Other stage performanceswe  missed that day or that took place the next day include: Science Cheerleaders, Stunt Science showing behind-the-scenes of Spider-Man and Other Hollywood movies, Explosive Science, Mathemagician Art Benjamin, Explosive Science and more.
There was just too much to do and see in one day and in hindsight, I'm kicking myself for not starting earlier in the day so we could have gone downstairs to explore the expansive displays including College and Career row because it's time for eldest to start exploring colleges. He is also interested in Robotics and there was an entire section on that area of tech.
On the way, we could have explored the halls that included the World Wildlife Foundation display, the Experimental Aircraft Association, the Color of STEM Pavilion featuring Black Girl Code and Howard University. and the Lockheed Martin Orbit and Robo Lab, National Security and Homeland Security displays
Better luck and better planning NEXT YEAR!