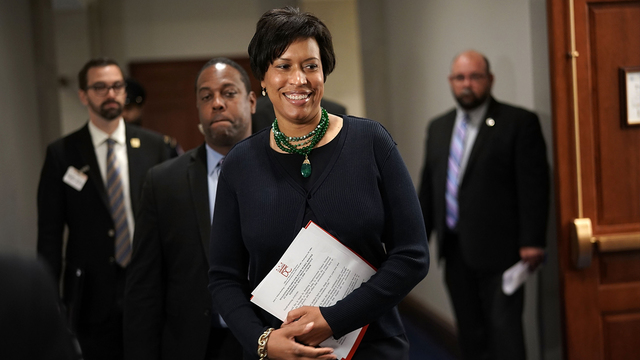 D.C. Mayor Muriel Bowser announced Monday night that she had adopted a baby, a process she said had started last year and "advanced much sooner than expected."
The 45-year old unmarried politician stated in a release that she began he process of adopting a baby late last year, after deep thought.
"I decided to start the adoption journey, just knowing that it was a great time in my life and I had so much to share with a baby," she said.
No further details were made available on the baby's age, gender or name, but the mayor did add in her statement that she would be taking a week away from her daily duties  to "enjoy these precious moments with my new baby."
She did tell a local CBS affiliate TV station WUSA9 that she is getting used to the unpredictability that is life with a baby.
"When you sit in the seat that I'm in, you're used to being able to make things happen and babies have a way of letting you know that they're in control," Bowser told the starion. "I'm really just looking forward to being able to pour a lot of love and attention and affection on a baby and help the baby grow into a wonderful Washingtonian."
Congrats to the new mom!
bellyitchblog.com+1 more Over 9 million people have enjoyed Bellyitch's Award-winning Celeb "bumpwatch" pregnancy and parenting blog. Trying to Conceive? Download our
FREE Fertility 100
ebook. Hunting for Top Maternity or Kids Brands? Our
Bellyitch 100
is the free resource for you. Baby Shower Shopping? Check out out
Top Picks on Amazon
or our
Gift Guides
.