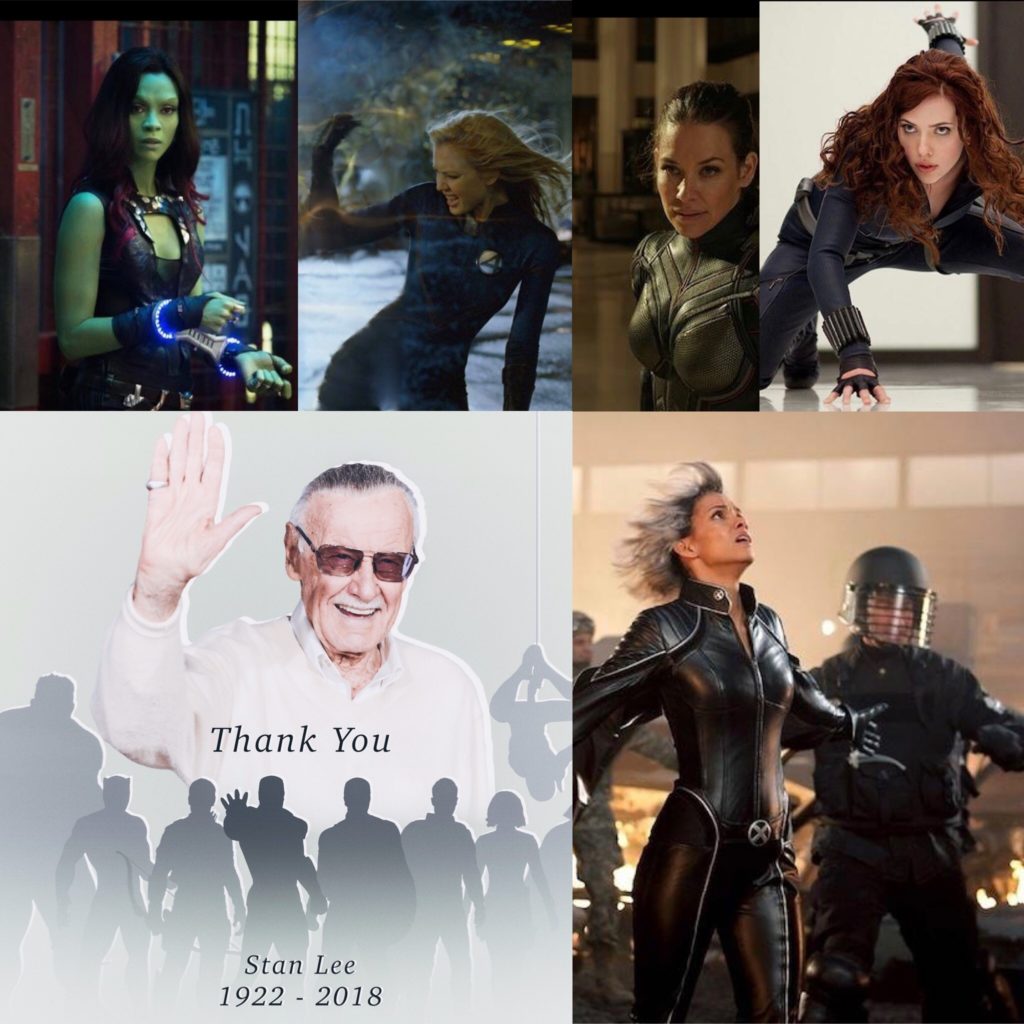 Every parent to a fan of superhero comics, television series and movies should know a child's favorite character and probably have a few of their own from childhood and today, the comic universe lost a pioneer and father figure in Marvel creator Stan Lee who died today at the age of 95.
Today, several of the celebrity women whose pregnancies we've covered in this blog left words of salute to the great Stan Lee who is recently famous for making obscure cameos in Marvel Cinematic Universe movies and films.
I caught the latest when he played a fellow gambler in The Black Panther release. Here is a quick rundown, excerpted from E! News roundup, of what our Bellytich Bumpwatch alums had to say about Lee's passing and what he meant to them as actors.
Halle Berry– "RIP, Stan Lee. Thank you for sharing your incredible vision with us. We are eternally grateful to you and would not be the same without it," tweeted Berry, who played Storm in three X-Men movies. "I am so honored to have played a part in your world and will forever look back on the opportunity
Scarlett Johansson
"The galaxy just gained another Dog Star," the actress, who plays Black Widow in multiple films, told E! News in a statement. "Thankful everyday to be a small part of Stan's universe. He was a legendary visionary and a true artist."
Zoe Saldana
"Today we lost one of the greats. Stan Lee, you were an inspiration and superhero to us all," the actress, who played Gamora in the Guardians of the Galaxy films, wrote on Instagram. "Thank you for contributing so much- and giving us all something to aspire to!"
Evangeline Lily
Stan…more than a master of stories, you always seemed like a master of living," the star of Ant-Man and the Wasp wrote on Instagram. "I will look to you for inspiration for the rest of my life. You live on. xoxo Your Wasp."
Taking a moment to thank the great Stan Lee for his kindness," the actress wrote on Instagram. "It was a huge honor to be part of your universe. The experience I had on The Fantastic Four playing Sue Storm/Invisible Woman was so meaningful as a young actress and made a huge impact on me. We will miss you, Stan Lee."
bellyitchblog.com+1 more Over 9 million people have enjoyed Bellyitch's Award-winning Celeb "bumpwatch" pregnancy and parenting blog. Trying to Conceive? Download our
FREE Fertility 100
ebook. Hunting for Top Maternity or Kids Brands? Our
Bellyitch 100
is the free resource for you. Baby Shower Shopping? Check out out
Top Picks on Amazon
or our
Gift Guides
.