Prepare for potty training by stocking up on these must-have items. Our list of supplies will help you and your child ease into this developmental milestone.
Kids seem to learn something new every day. But out of all the developmental milestones to achieve, there's only one that equally instills fear and pride in the hearts of mothers everywhere: teaching your infant to use the bathroom. Fortunately, there are so many potty training products that make learning so more simpler.
Unlike other landmarks, potty training challenges can sometimes impede progress, in a way. Think about it. They've spent their whole lives peeing and pooping comfortably in their pants, and all of a sudden their parents want them to drop everything (including their pants) and go do their business while sitting on a cold, hard piece of porcelain multiple times per day.
CHECK THESE OUT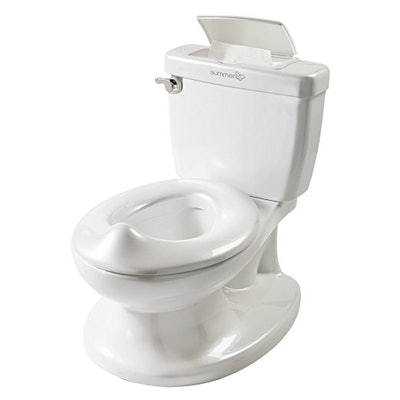 Summer Infant My Size Potty
$26.48
For some children, starting on a training potty that looks like the real thing can make the inevitable transition easier. Enter this porcelain lookalike potty. It's just like the ones grown-ups use (minus the plumbing), and it features a pretend flusher and a built-in wipes compartment for convenience. A clip-on splashguard helps keep pee in the bowl, which can be removed for easy cleaning.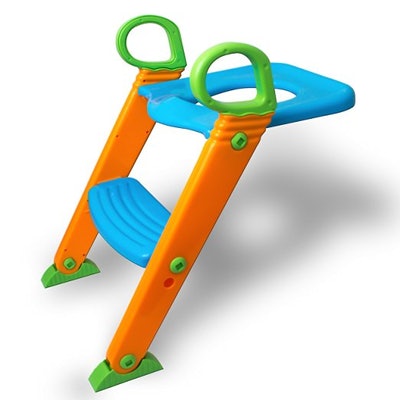 Potty Training Seat with Ladder
$19.90
Helping your child get one step closer to potty independence, this combined step stool and potty seat lets little ones get on the potty all by themselves. No-slip floor pads and handles help keep your little one safe while protecting your flooring from scratches, and a collapsible frame allows for easy storage once your kid has this potty thing down pat.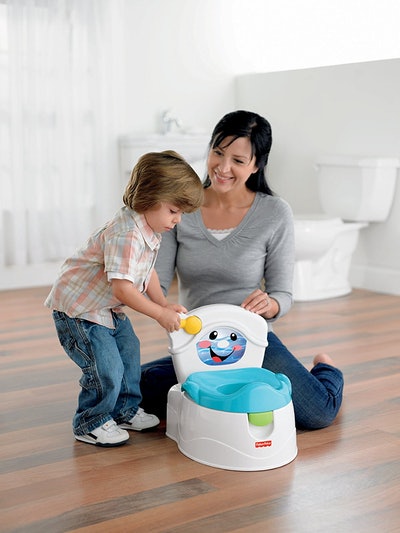 Fisher-Price Learn-to-Flush Potty
$26
A little encouragement can go a long way for kids who are potty training. This electronic Learn-to-Flush potty has built-in sensors that detect wetness, so when your little one makes it to the potty in time, the cheerful, smiling potty plays music and sounds as a reward. After getting down to business, kids will love the pretend flush feature. Additionally, the blue seat fits on grownup toilets to make the transition to the real thing easier.