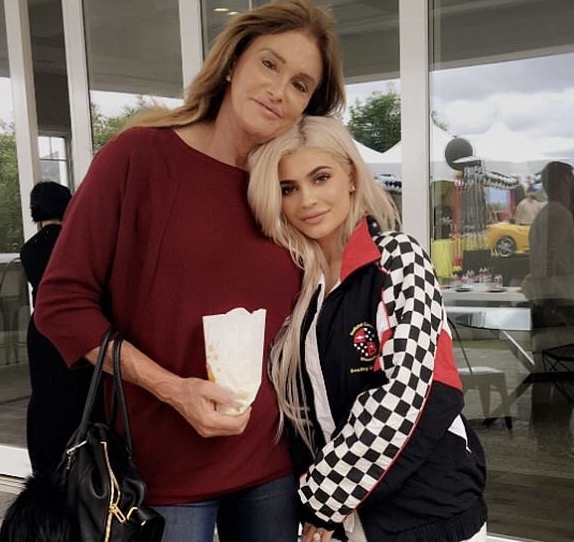 Kylie Jenner's dad Caitlyn Jenner (formerly Bruce Jenner) has been the first person in the Kardashian/Jenner clan to confirm openly to the media that Kylie is indeed pregnant with her and 25-year old boyfriend, hip hop star Travis Scott's  baby.
Caityln's rep told The Sun when asked how she found out about her daughter's pregnancy: "All I can tell you is that it was some time ago."
ok. ?
Kylie hasn't confirmed that news in the media yet, as her mom Kris Jenner  told longtime family friend and executive producer of the Keeping Up with The Kardashian reality-Tv franchise Ryan Secrest when he pressed her  for confirmation.
Well there you have it! It's always the dads! LOL!
Beyonce's father Matthew Knowles confirmed that she was having twins before Bey and hubby Jay confirmed it themselves.
My thoughts on Kylie being pregnant is this: the girl is 20, yes a young age, but she has already achieved multi-millionaire status through her reality Tv show, clothing line with her  sister, Vogue model Kendall Jenner, and her wildly popular make up line, Kylie Cosmetics.
While ideally, and statistically, a baby born within wedlock of a healthy marriage has a better chance at a balanced life, it's not common in Hollywood or even among general regular families these days.
So while Kylie may be young to start a family, she has more than enough means and support to provide for any child.
She's a multi-millionaire with several homes  and her baby will have plenty of ready-made playmates in the form of cousins.
Kylie's big sister Kim Kardashian- West and husband Kanye West are currently awaiting the arrival of their third child. The baby – a girl – is being carried by surrogate and is due in January.
The new Scott-Jenner baby will have the Kardashian-West kids, 4-year old North and 2-year old Saint and the Disicks, 7-year old Mason, 5-year old Penelope and 2-year old Reign, whose mom is Kourtney Kardashian and dad Scott Disick, 1o-months old old Dream Kardashian, Rob and Blac Chyna's daughter as cousins.