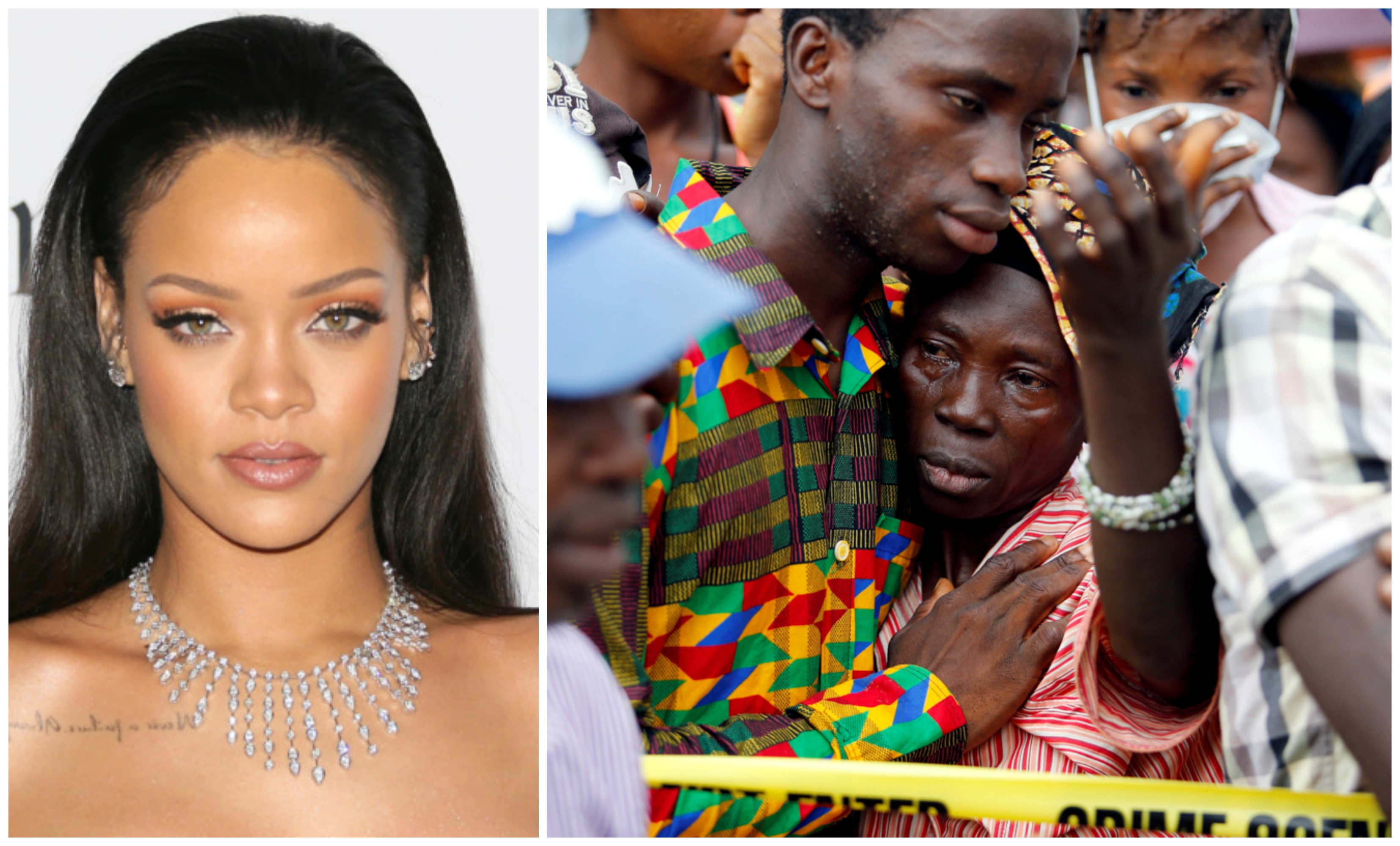 The Sierra Leone Mudslide Catastrophe Is Getting Overlooked but One Major Celebrity, Rihanna, Has Stepped Up to Help; And Here is How You Can Too
I interrupt this regularly scheduled pregnancy and celebrity bumpwatch blog to plea for help for the people in my native Sierra Leone, West Africa who are suffering from the results of a recent catastrophic mudslide in the hills of the city which has led to the deaths of 400 people, and permanent displacement of 3,000 others. Some are still unaccounted for and believed to have been buried alive and many of the victims have been women and children.
The disaster has not gotten too much attention from the international community compared to other recent terror, and weather related atrocities that have garnered the empathy and support of many.
There have been efforts to help from the usual allies and, more recently, from a noted celebrity.  International Barbadian pop star Rihanna recently donated $2M to support the rescue, recovery, and clean up effort.
"It is a humanitarian gesture, an act of solidarity and support for a brotherly affected people, the songstress said. "My thouhghts and prayers are with our brothers and sisters in Sierra Leone. My initiative Clara Lionel Foundation (CLF) is donating $2M to Sierra Leone to assist and house victims of the mudslide in Freetown that has rendered people homeless. The fund is intended to provide shelter, food, clothing and medicines."
Receiving the donations on behalf of Sierra Leone, the Sierra Leonean Ambassador to the United States
Bockarie Stevens
expressed gratitude for the gift.
The death toll includes those killed in mudslides on the outskirts of the West Africa. The country's president Dr. Ernest Bai Koroma sent out a global plea to all nations to help.
Nearby African leaders of other nations stepped up first.
The president of Guinea Alpha Conde visited and with the Sierra Leone president Koroma visited survivors and rescue workers at the site in Regent, as award-winning anti-FGM (female genital mutilation) campaigner Alimatu Dimonekene wrote for International Business Times.
Other neighboring nations like Senegal and Ivory Coast sent high powered delegates to discuss aid and assess needs.
Non African nations that sent supplies and support include Israel, which was the first country to send an envoy of supplied and Turkey.
As can be expected, expats from Sierra Leone the UK, France, Germany and the US have launched several efforts to help.
I'm aware of and can endorse the AC Global initiative, the Mama-Pikini Organization, and Act for Sierra Leone and urge any individual wanting to help to donate to one of these groups.
As a Catholic, I support the Catholic Relief Service, which is usually great about making sure the bulk of support go to victims and not to programmatic support like salaries and travel for staff.
Ideally, more attention will mean more help and help getting to the victims. I'm grateful to Rihanna because maybe more celebs will step up.
"First of all, it is the right thing to do. We have the ability, and with a relatively small effort, and relatively small budget, we can make a big difference," Paul Hirschson, leader of Israel's envoy of help said. "That is the first and foremost reason."
The next stage of Israel's assistance will be to provide antibiotics to deal with concerns of an outbreak of cholera, and hopefully by then, more countries will also offer tangible relief and help.