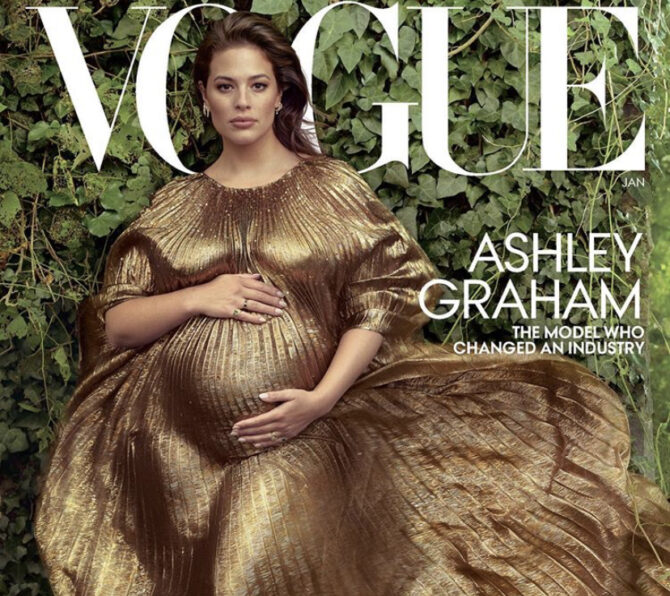 First-time mom-to-be Ashley Graham covers the January 2020 edition of VOGUE, photographed by famed photographer Annie Leibovitz.
The Sports Illustrated cover model shared a photo of the cover of her draped in a gold down cradling her bump. A second photo she shared featured Graham with her husband Justin Ervin bare-chested standing behind his wife cradling her belly on a beach.
Draped in gilded "Oscar de la Renta" caftan, the model looks radiant in her first solo cover for the U.S. edition of the fashion publication.
Inside the mag, Graham discusses social media's "baby bump" obsession), what her mom pals Kim Kardashian, Amy Schumer and Serena Williams taught her about motherhood and her struggle to find support during this complete life change.
"I've always had control over my body — when everyone else wanted to dictate what it should be, I took full control over it — but I had this life inside of me saying, 'It's not yours anymore, it's mine,'" says Graham. "I was gaining weight rapidly. And I felt alone. And the one piece of advice that my stylist, Jordan Foster, gave me was, 'Make pregnant friends.' None of my friends were in relationships, let alone pregnant. And now I have nine pregnant friends."
"When I look at this picture, I get so emotional because this moment feels bigger than me," she captioned the post. "It's indicative of our entire relationship – my husband @mrjustinervin supporting me ALWAYS from day one."
The model continues, "I'm overwhelmed with so much joy and filled with such gratitude that we are doing this together ? Thank You Thank You Thank You."
Readers in New York City and Los Angeles, California can nab a copy of the January 2020 issue today and nationwide on Dec. 17. To see more photos from Graham's photo shoot, styled by fashion editor Tonne Goodman, and to read her full interview, visit Vogue.com.
My fave part is about Williams who parrots everything chronicled on this blog. Woot! Yes sis!:
"Serena Williams wonders if it all started with Demi Moore on the cover of Vanity Fair in 1991, naked and pregnant, shocking all the squeamish prudes and church ladies. "I was only 10 at the time," says Williams, "but I remember thinking that was cool." Ten years later, when Us Weekly focused its attention on questionable gossip and paparazzi shots of actresses pumping gas in Beverly Hills, the whole bizarro obsession with the "baby bump" took off. Tabloid copycats escalated their pursuit of the possibly pregnant, raising it to the level of stalking. One afternoon of bloat while leaving The Ivy and suddenly: IS JENNIFER PREGNANT? And then social media came along and women began to own their narrative by curating the journey of getting and being pregnant and giving birth and bouncing back—or not.

"I think it's a good thing," says Williams, "but it also puts a lot of pressure on women. For me, the whole lie about 'the snap back' was what bothered me. I had a little problem with the lies of girls on Instagram—like, coming out of the hospital holding the baby and . . . you know . . . looking thinner than before. That's not happening to me! That's one thing I've learned, and the thing I tell Ashley: Everybody—literally every body—is different. You might jump back in an hour. I didn't."