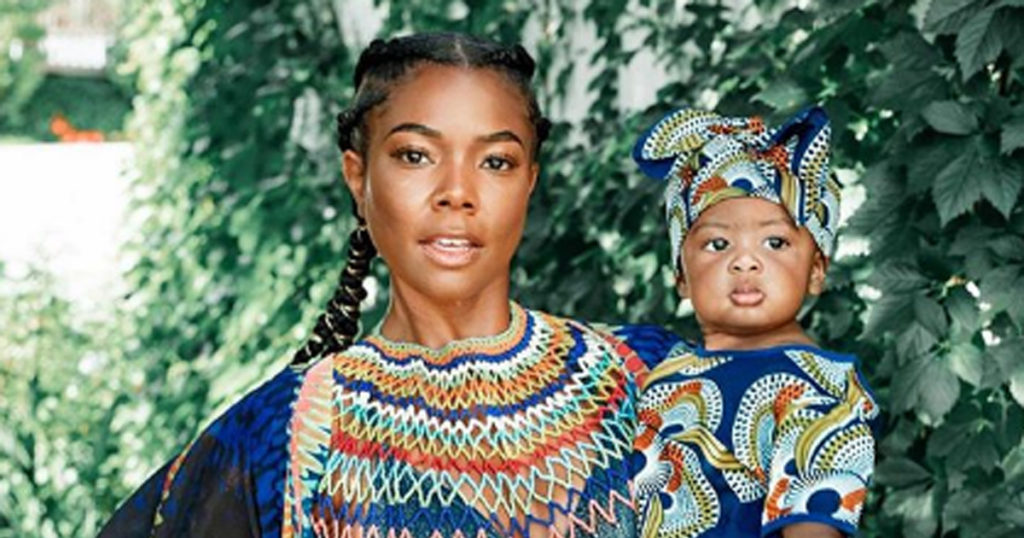 Gabrielle Union shared the most adorable high fashion mommy and me photo this week featuring her daughter Kaavia James Wade, and the best part is she was wearing a caftan from a designer from my native Sierra Leone, West Africa.
On Tuesday, the actress and America's Got Talent judge shared a fashion photo taken by photographer April Belle, which she captioned, "Settled and Serving."
She was wearing a colorful aquamarine two piece bikini with intricate ethnic shapes at the trim while draped with a coordinated Aphrodite Goddess Kaftan  from Sierra Leone native Sai Sankoh's self-titled debut fashion line and retails for $295.
My story is a lot like Sankoh's in that I too arrived in the US as an immigrant as a child and eventually hosted a series of websites and blogs.
According to a recent feature in Yahoo! News, Sankoh recently moved to Dallas, Texas with her sister when she was bit with the designing bug and began crafting designs, and used her celebrity contacts and past work to get a series of stars to wear her Havana Collection.
I am a fan and have featured Sankoh's Because I Am Fabulous blog and her African Luxe magazine in the past on this blog. The now defunct BecauseImFabulous.com site used to feature breakdown of celebrity Red Carpet and other fashion features.
And now she's done with that and focused on her line and on getting A-Listers to wear her designs. Love the focus!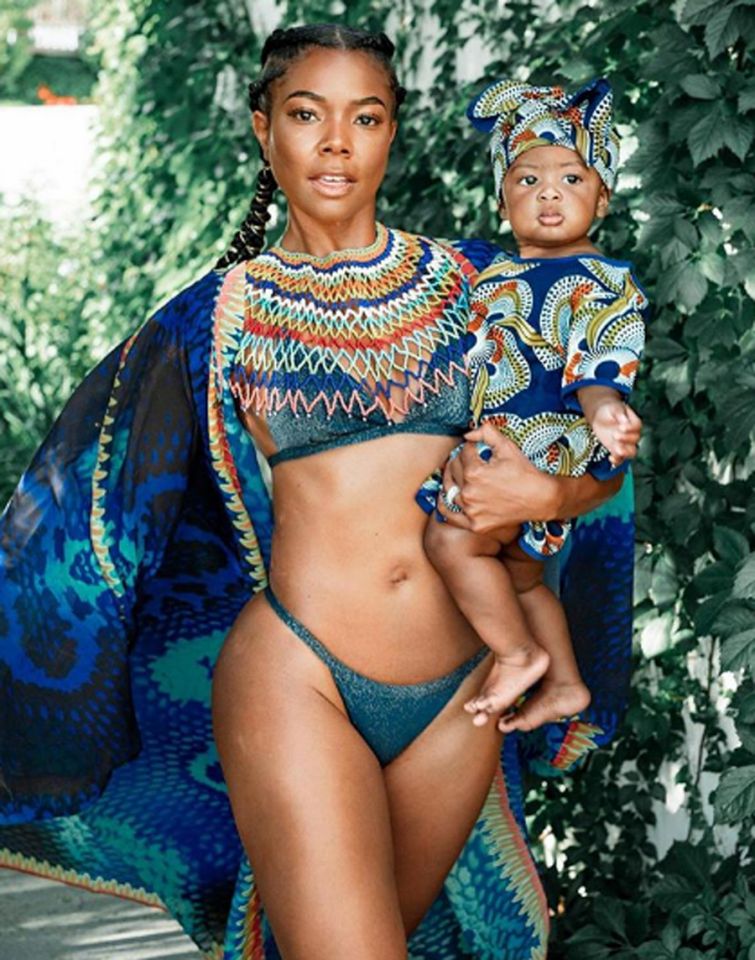 "Thanks for doing my kaftan such justice," Sankoh captioned her repost of the Union photo later.
A recent feature by Lucille Dyosi in Medium characterized the pieces as "glamorous, sophisticated luxury resort wear that can easily be styled from boardroom to the beach."
I also love that Sankoh's kaftans are perfect for maternity shoots and for fashion shoots that travel bloggers have while on vacation abroad in places like Mykonos, Greece and Dubai.
Other celeb fans include Destiny's Child alum Michelle Williams and author and media personality Sarah Jakes Roberts, daughter of famed Bishop T.D. Jakes.
Of the line of colorful clothes, Sainkoh said:
" My recent collection 'lasting havana' is inspired by my home country Sierra Leone. We have an amazing culture that I think the world needs to see. Also the flora and fauna amaze me especially in summer season, the colours, the bright and overall landscape during that time are just breathtaking. They are the inspiration behind this collection."
She also said she has plans to build a factory in Sierra Leone eventually and to help another generation prosper as well.
I'm waiting for the baby and girls versions after seeing Kaavia's coordinated with her mom as I was loving Kaavia's matching Ankara print dress and bow tie headwrap which we first saw back on July 6 on ther baby's Instagram page.
Wade and Union married in August 2014 after five years of dating in a lavish ceremony in Miami.
The couple welcomed baby Kaavia in November, via surrogate. Wade is also dad to three sons — 5 1/2 year old Xavier Zechariah, 12-year old Zion Malachi Airamis and 7-year old Zaire Blessing Dwyane — and guardian to his nephew 17-year old Dahveon.