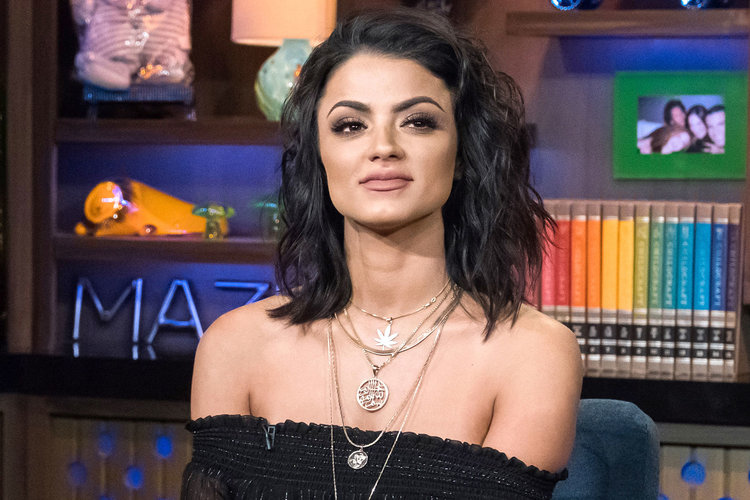 Bravo TV's Shahs of Sunset star Golnesa "GG" Gharachedaghi  welcomed her first child, a baby boy!
The entrepreneur and reality TV star announced the news on her Instagram page. "WELCOME TO THE WORLD ELIJAH!!! ❤4/27/20❤" she captioned a post delivery photo of herself giving her newborn skin-to-skin kangaroo love.
"Very happy to report that last night Golnesa Gharachedaghi gave birth to Elijah Javad Gharachedaghi," her rep told Entertainment Tonight. "The baby arrived last night in Los Angeles at 8:50 p.m., 6.5 pounds, 19.5 inches."
The rep added: "Everyone is doing great and Golnesa is beyond excited to be a mom and start this new adventure."
The feisty petite 38-year old was very open about welcoming her first child via in vitro fertlization and
a sperm donor. 
She has stated in that past that though having a baby solo is frowned up on in her Persian culture, she had wanted a baby all her life and was not going to let old traditions get in the way of her dream.
On the Bravo show Watch What Happens Live, the Wüsah owner and cannabis entrepreneur told host Andy Cohen that while she's had a "great support system" of family and friends, she endure a tough road to pregnancy.
"The biggest struggle I've had in general has just been having rheumatoid arthritis and dealing with the pregnancy," she opened up to Cohen, also sharing that her doctors intended to induce her two weeks before her due date so she could go back to her intense treatment for that autoimmune disease.
According to PEOPLE magazine, "Gharachedaghi used a sperm donor and completed a round of in vitro fertilization (IVF) in August, but nearly lost her life after her first successful embryo transfer in the spring led to an ectopic pregnancy that required emergency surgery and the removal of both fallopian tubes."
"This is what I wanted my entire life," Gharachedaghi, 37, told People. "When little girls were talking about their perfect husband and their perfect weddings, I was talking about the 10 kids I was going to have."
She plans to skip the husband and raise her child on her own. She's the third cast member to be pregnant following Mercedes "MJ" Javid last Spring and Asa Soltan in July 2017.
She's totally cool about raising her baby on her own.
"I'm OK right now focusing on me and my baby," she said. "We're in a day and age that women are so much more independent, and we're not necessarily relying on men in order to move forward in life. I can start a family and have my child without being in a relationship right now."
She added that if she is lucky to meet someone, "That's great" but she is not interested in getting married in the future or necessarily being with a "forever life partner."
"My forever will be my child," she said.
Gharachedaghi got hitched to her on again, off again boyfriend Shalom Yeroushalmi in 2017 but the marriage lasted 7 weeks and they divorced.
The Shahs of Sunset season finale airs Friday at 9 p.m. ET/PT on Bravo.